Projects for the year 2019
August 2019
Gauge 1 Half and half station building now completed. The large Gauge O railway is to be dismantled pending a move. See how this is achieved by clicking Moving your railway.
July 2019
The O gauge railway is due for modernisation mainly due to a prospective house move. Gauge 1 Pannier now in the process of being built. Will be ready for Christmas. Platforms have arrived.
June 2019
The three of the five buildings for the gauge 1 project have been constructed. The 'B' set coach has arrived.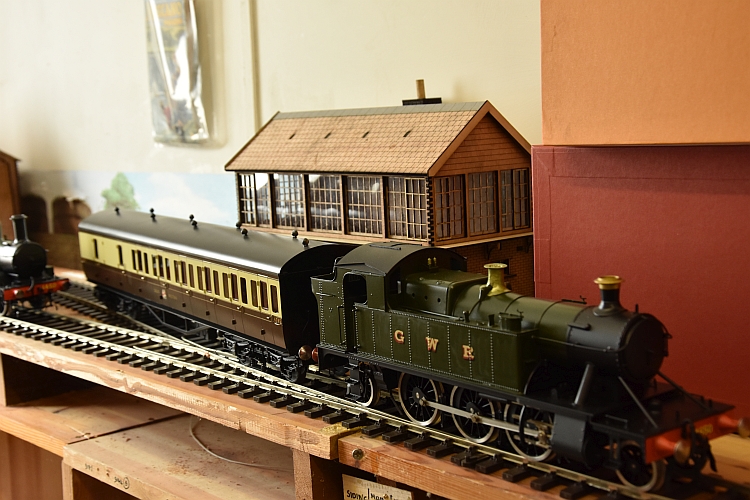 May 2019
Just back on the railway again after a short break. The Slaters gauge 1 milk wagon has been completed. A second loco has arrived, the 47xx Bachmann Prairie as well. The 14xx has had RC fitted and although the battery has a lot to do it performs very well. The chuff is operated by a cam on the front axle.
April 2019
Not much happening due to ill health. Taking a break.
March 2019
6 Gauge 1 building kits now arrived from lasercut Model Railways. Yet to be started, made of thin ply.
February 2019
Most of my Hornby Dublo 3 rail kit has been sold off to fund a gauge 1 project. Currently on hold but I have purchased a 14xx loco a couple of trucks and kits to build and a B set coach is on order from Tower Models.
January 2019
The Mogul completed and has been converted to Radio Control using Fosworks plug and play kit. Very successful project but the front bogie of the Mogul is shorting over points and needs addressing. A video of its working can be seen here:-
Detailed Miniatures workmen are now insitu on the locos in the shed.
2019
Radio Control
Looking into Gauge 1 as a small project