Projects
To give easy access to major projects I have listed them under the following headings: (click on each heading)
September 2018
Telford Gauge O show 4 new Minerva gunpowder wagons shown below: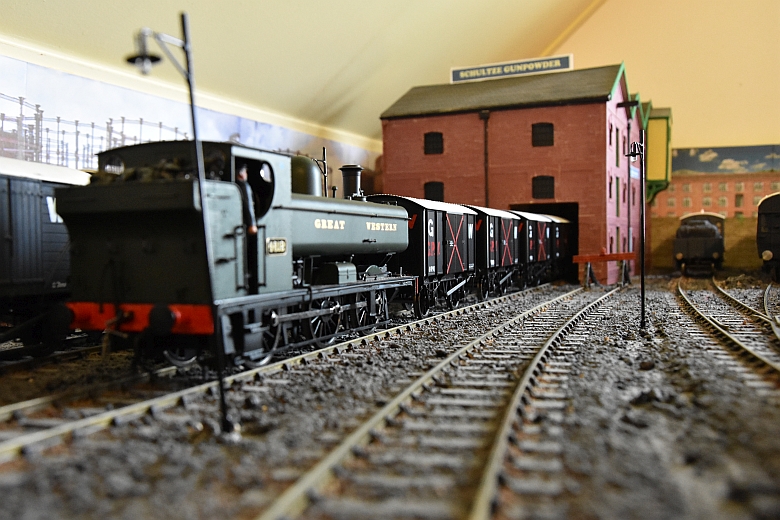 August 2018
An open top Austin has pulled in to the garage for fuel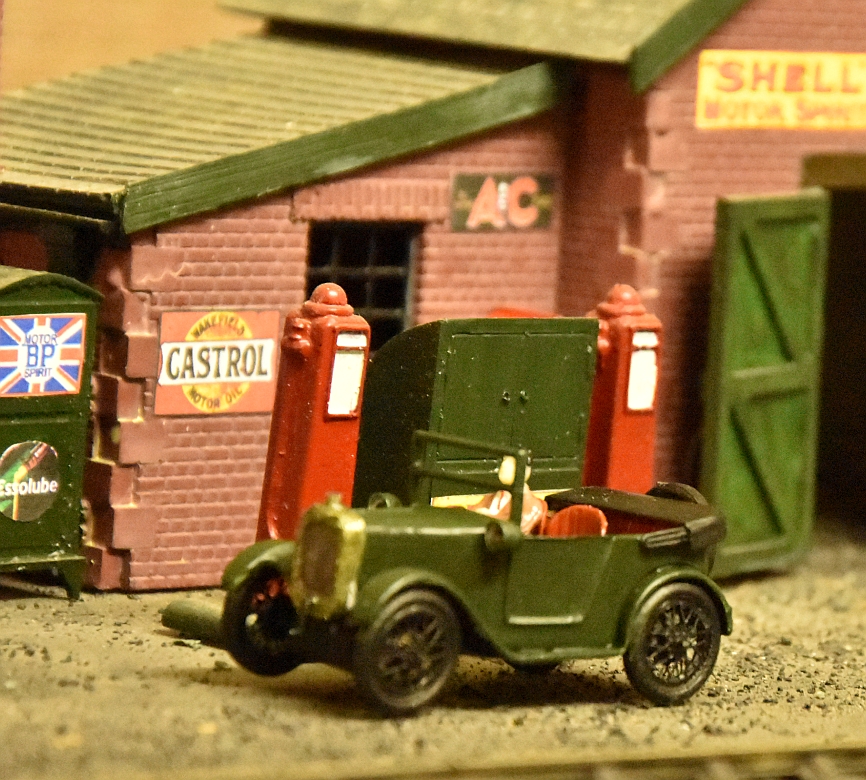 Our king of the highway as taken ownership of his new home:-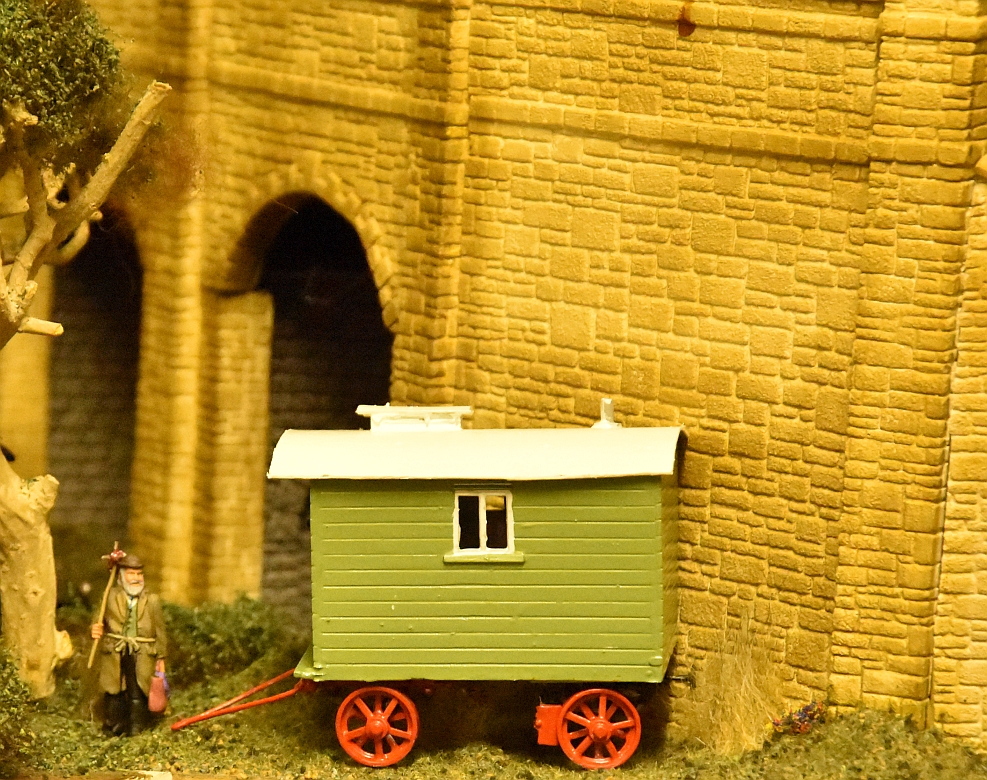 In anticipation of a Telford visit, the Malt building has been taken over by the Schultze Gunpowder people and production will start in the next couple of weeks. The GWR will be distributing their product in specially made wagons from September onward!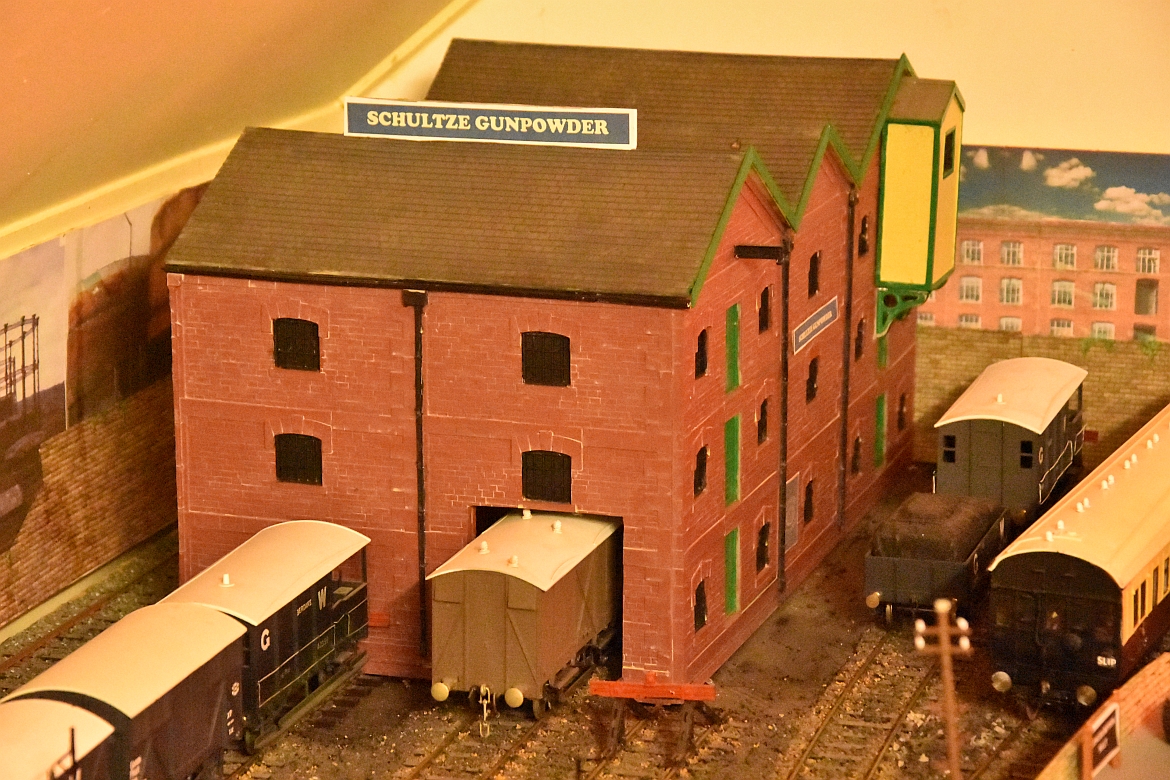 The sidings at the other end of my railway now have yard lights as well:-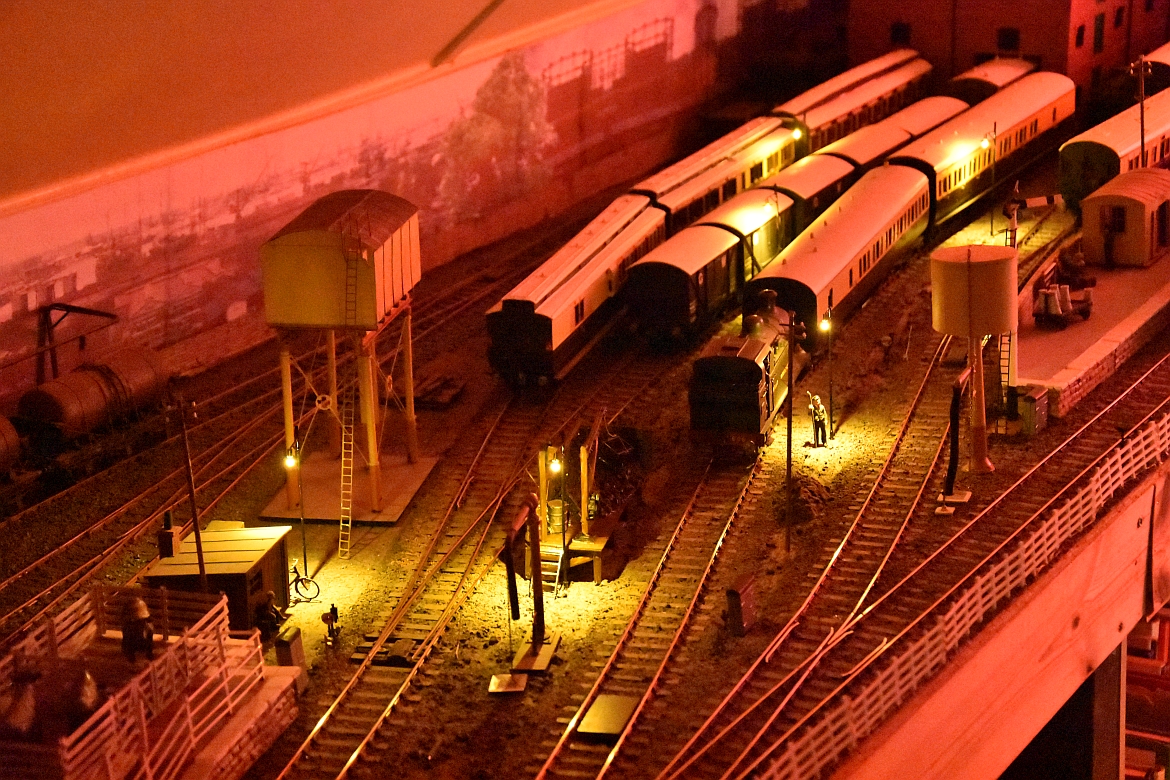 Having attended the Southwold Railway Show, I came away with an oil dispenser for my garage. Which has been duly painted and sited at the front of the garage.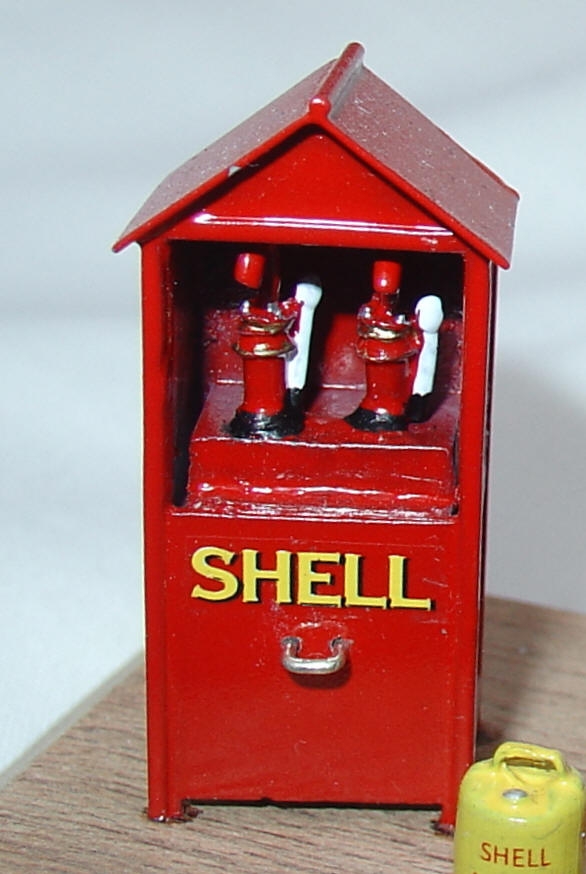 July 2018
Some areas of the railway are not powered all the time but only according to the road the points are set to. This is fine for DC but not for DCC particularly where sound is concerned. As all my locos have sound I'm rewiring the roads from point frogs to give them power on all the time. This necessitates insulating the frog and then supplying appropriate feed to the onward rails.
June 2018
Ground signal levers installed on the railway.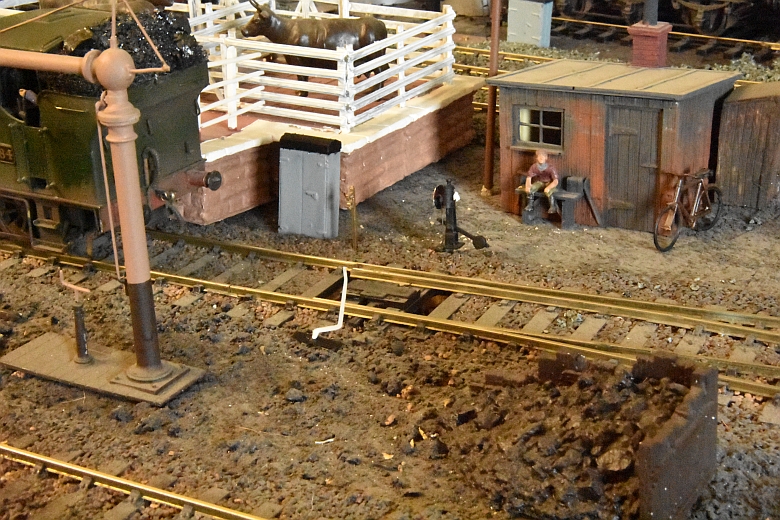 May 2018
A rearrangement of signals at the throat of the junction was necessary. Click the signal option above to check it out.
A new water tower is installed for the pilot station shunter.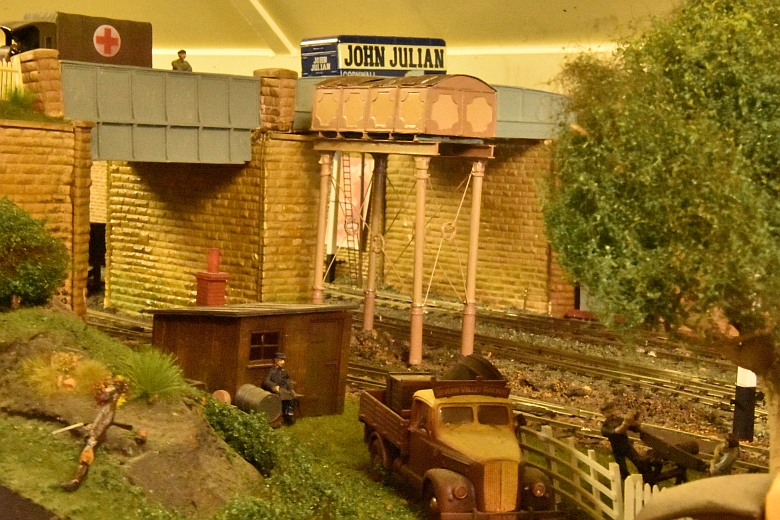 Signal changes at the junction leading into the gas works are now necessary as the station pilot is housed at its entrance on a short spur. Select the Signal option above to see what that entails.
April 2018
Laser cut Engine Shed
Just had the pleasure of making my first laser cut model. Some on the market are well overpriced, but i came across a great small company at www.Lasercutrailwaymodels.co.uk I chose the fine scale engine shed at £33 as I needed to make a small shed that would fit into a tight space. Could I cut its length down? Could I narrow the width? Yes of course I could and the end result is pretty much perfect as shown here: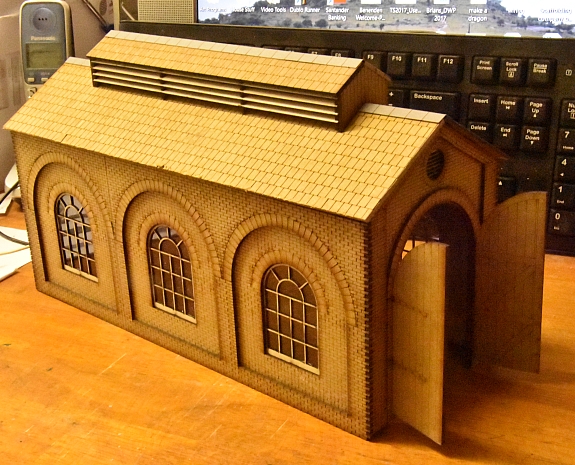 Here it is insitu in that confined space: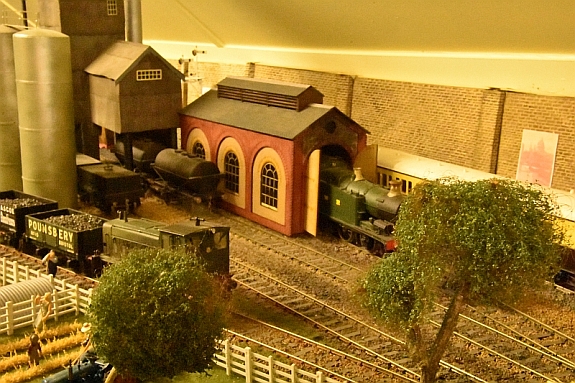 The Signalling project has had a rethink. Although it is 90% correct there are some blindly wrong assumptions i made in setting it up that now needs addressing. To see in more detail what this means click here.

0-6-0 Pannier from CRT Kits
The CRT kit 0-6-0 has had pickup issues and due to my forgetting to set the bearings I have now dismantled and re-jigged it. The bearings are soldered in place and the wheels reset. I'm currently running it in again to iron out any clunks etc. This process takes up to an hour running in both directions before DCC is even contemplated. Hopefully this will cure the pickup issues as well. I was using wire and now will use phosphor bronze strip instead. Running in is shown below.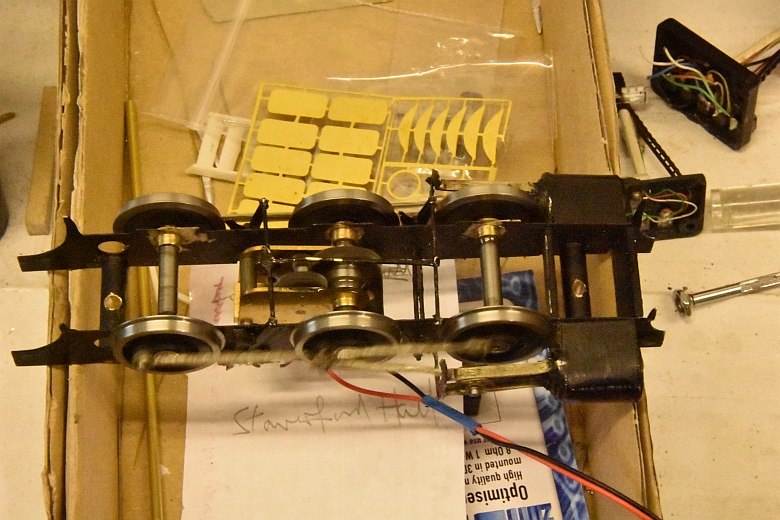 March 2018
Signal Boxes
My last two signal boxes have arrived from Invertrain and a start has been made on them. I have arranged lighting in the roof. Stuck black card on the inside of the roof plates and am awaiting two figures from detailed Miniatures to finish them off. The kits include everything you need to create the boxes, (internal details, drain pipes guttering barge boards etc.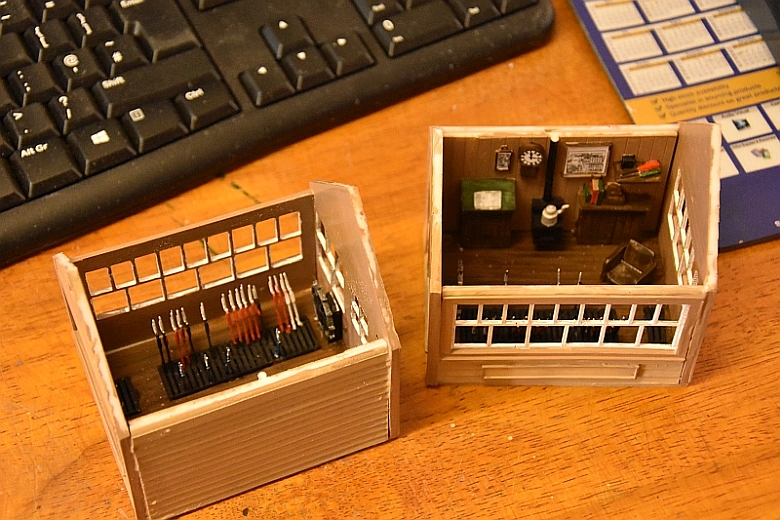 I have added a Minerva RTR Pannier to the loco stock. A good purchase and finely detailed. As I had a spare ESU decoder for it I opted for the DC version at around £260. Here is the result. Its a brilliant little engine and a great addition to my stock of locos.
February 2018
Next loco in the waiting line is a 13xx 0-6-0PT by CRT kits I picked up at Kettering last year. You need wheels motor and gears, transfers and number plates to complete the kit. Click here to see it progress through the workshop.
The match truck is completed. Click the link below to see its final look. Work on the crane itself isn't due to start until the Autumn.
January 2018
The breakdown crane project is progressing with the match truck being constructed out of two brass WEP kits. To see the progress of this click here.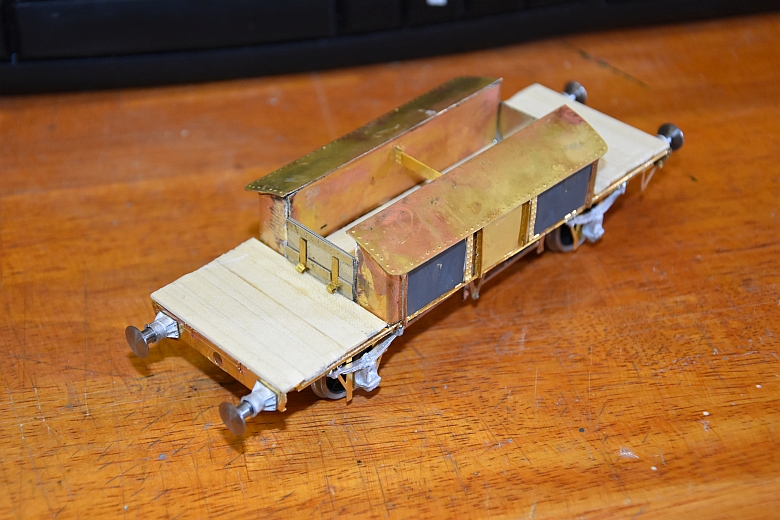 Update on the bells purchased below: not a good choice if you want a single strike so I reverted to the original ones and retuned them to work properly.
December 2017
The replacement bells are here. Trying AC ones as shown below to replace the current DC ones that are somewhat fragile! Click here to see the progress made.
One important junction signal was missing from the system and is now under construction as shown here.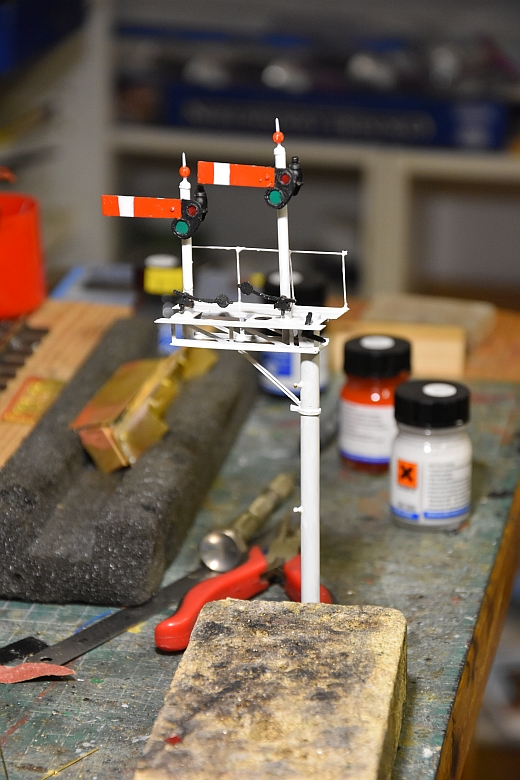 Match truck sides for the breakdown crane have now been constructed and are ready to be fitted to the wagon chassis. Search for breakdown crane to see the story.

Finishing off the ground signal system. Click Here for the full story. There are still one or two signals to build and install. Here is the system I currently use which will replace the PECO switches currently in use. Click the picture for a larger image.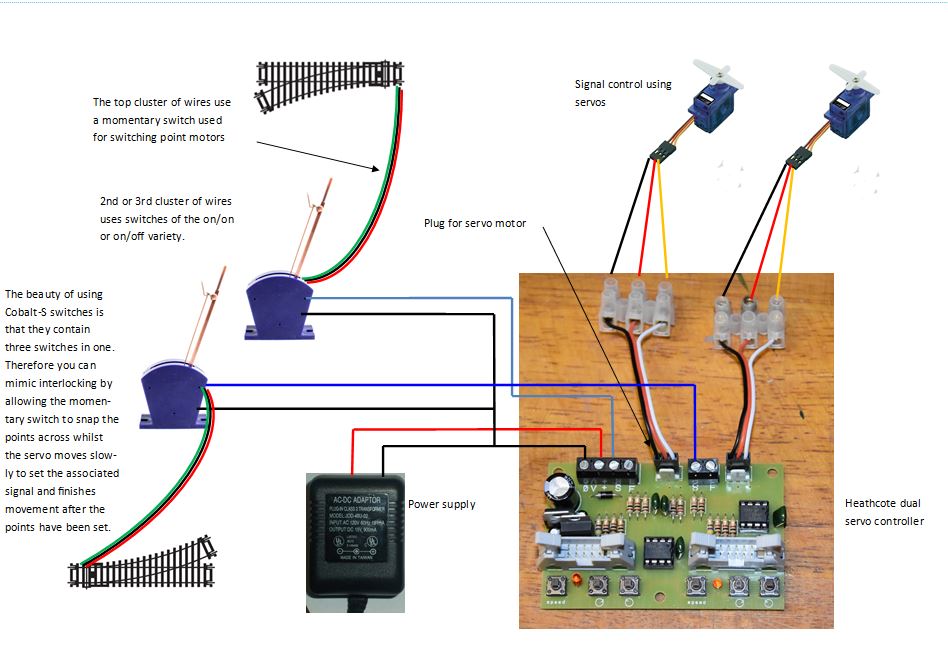 The new configuration looks like this though. |Each set is spread around and akin to one of the five signal boxes on the railway.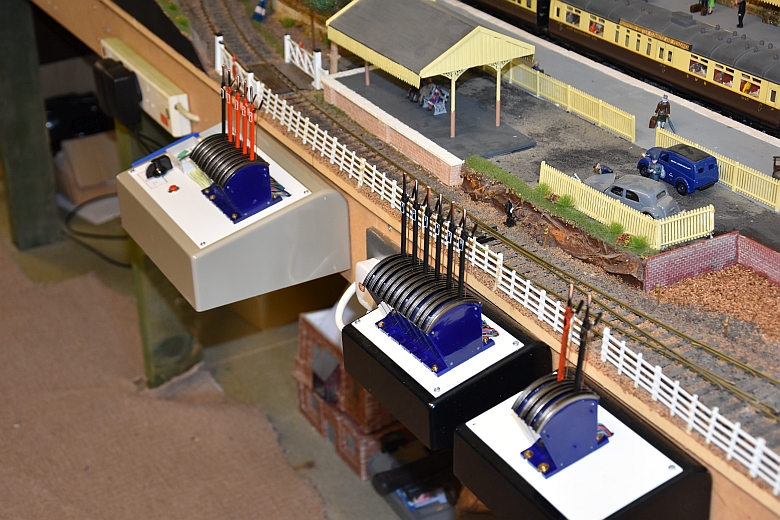 And the two levers on the right hand side control this set of ground discs: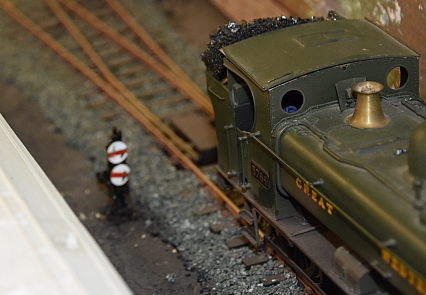 Top disc divergence to the left, bottom disc divergence to the right.
November 2017
Mostly behind the scenes stuff organising more signals to complete the system, more control boards from Heathcote electronics and Cobalt-s switches from Hattons
October 2017
The Peckett Dock tank X2 is under way and nearing completion after a long stall. Check it out here.

Detailed Miniatures have had my 'Dads Army' platoon in for painting and here they are, an excellent job!: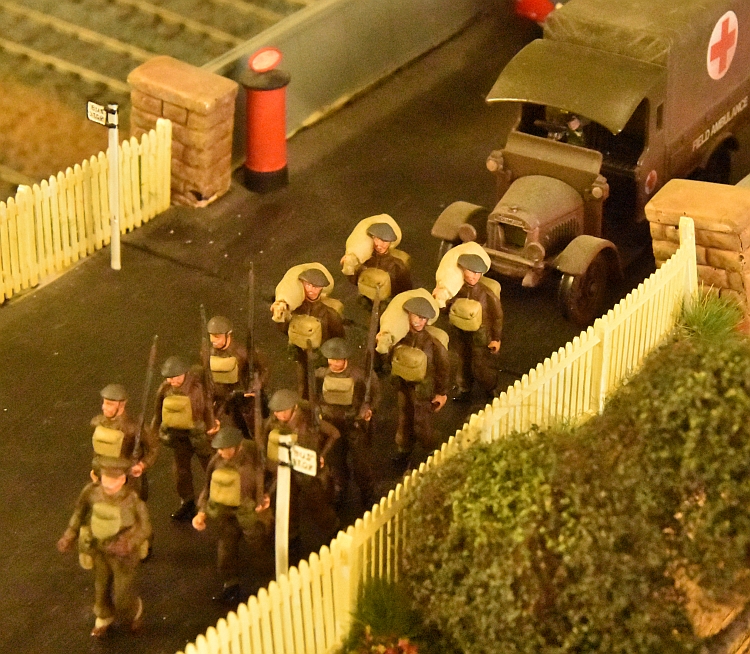 September 2017
Finishing off the signalling on the railway I forgot the loop line and milk siding at the far end of the railway. This would necessitate a double ground signal. Fortunately i had a MSE Ground signals pack left over and built a double body from the two separate bodies.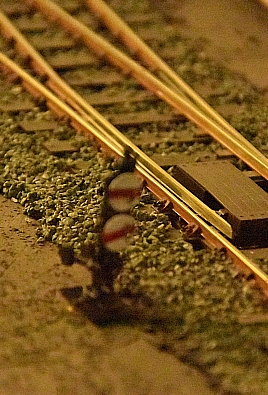 Having completed the ground signal and block signalling projects I turn my attention to a neglected part of the railway. That of isolating point frogs and adding in extra power connections to maintain power over most if not all of the turnout sections. This is especially important where DCC is concerned. as a loco stored on a diverging or through line will have its power cut off when the points are changed. Apart from potential damage to the decoder, where sound is involved it becomes un-prototypical. Any sounds should be there all the time not just when the point is set in favour of the loco! As all the track is well bedded down I propose to cut the fishplates and re connect the onward tracks to maintain constant power.
O Gauge Guildex at Telford once again. All those unexpected purchases and chance conversations that led to more purchases. Having ridden behind Bradley Manor the day before on the Severn Valley Railway, I bought a Warren Shephard Manor kit ready for the coming Winter build. This also involved a visit to ABC for a motor and gear assembly and an order for cast iron insulated wheels from Lez Allen of Walsall Model Industries. A future purchase of an ESU decoder will also be necessary in the Spring to complete, (plus the usual 'extras' along the way - nameplates, wheel nuts, etc, etc. Click Here to find how the Manor build will go.
Lez also provided me with two van kits that I will use to make up a match truck for the 15 ton crane D&S kit I have. No one makes such a kit but I will be creating one from the two kits which are: a GWR Fruit 'C' van and a Gunpowder improvised van of WEP model source now owned by Lez. Click here to see how it now progresses.
Finally, a collection of 'Detailed Miniatures' figures for the railway and a collection of home guard figures on the march for them to paint as part of a diorama I intend to create in the future.
August 2017
There was a need for a signal box in the ground signal shunting area. One is on order to compliment the other signal box and work has started on its placement as shown here.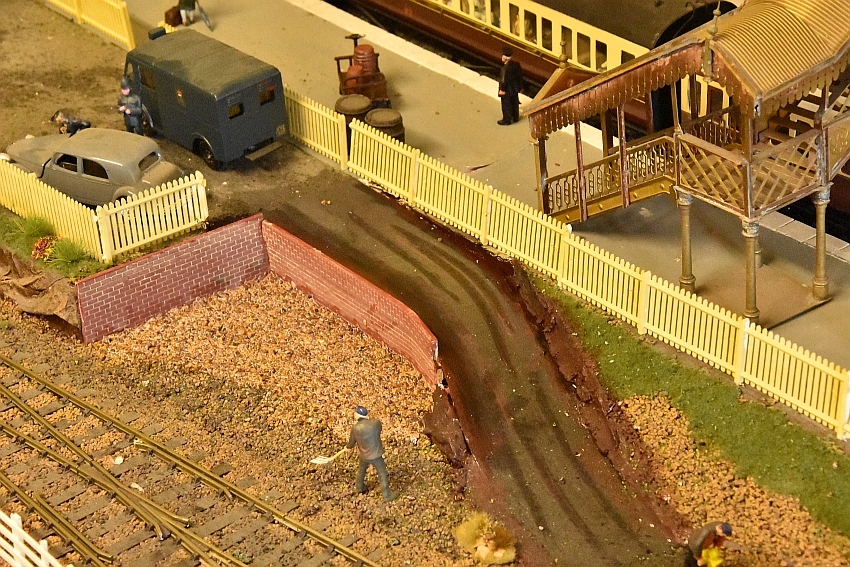 July 2017
Adding to the ground signal project I've started to implement the use of dummy point rodding and signal wire pulley posts.
To further enhance the layout I'm about to install telegraph poles. My choice will be ready made PECO ones which are on order. Click here to see more on that.
Adding to the signalling system I have adopted I want to include some ground signals in the shunting yards in the fourth part of my railway. To this end I have purchased a number of ground signals from MSE. But its not that simple! Click here to find out why!
June 2017
The rest of the control boards for the indicator switches have now arrived and their installation now can proceed. It involves connections to a power supply, connection to the rotary switches and the indicator servos. This will take the rest of this month.
I failed to check the clearance of one of the signals against the steam railmotor and the diesel railcar both of which collided with it. The signal has be re located and all is now well! Always check the combinations of stock against your positions is the maxim here!
I have completed the installation of the major signals on the layout. Using PECO signals activated by servos and control boards from Heathcote Electronics. There is a holdup on the indicator controller PCBs from GFControls for a few weeks but they are in the pipeline.
May 2017
The absolute block project is moving on with 8 extra signals to build and the wiring to connect each Block box underway. Click here for an update on progress.
April 2017
Running in parallel with the signal construction I'm looking into Absolute Block control as well and trying to bring the two aspects together. Click here to see how - if its possible using servos as indicators.
March 2017
I have taken the view that to signal my railway would be a very sensible thing to do, but I'm not a fan of building them so how do i approach it? Click here to find out.
February 2017
Kettering Spring Show 2017 The first of a couple of shows focussing on O gauge modellers. 80+ traders stalls with plenty to spend your money on. I have just started populating my railway with various folk, some I have painted myself some ready and recently from Detailed Miniatures. These figures are exceptionally well painted and the choice of figure is appropriate to our 7mm scale. Some others look a little thin or slightly too large. Here are a couple of pics from my railway with Detailed Miniatures figures in them. Most retail at around £14.99 but the detail and quality that is all there is what you pay for!!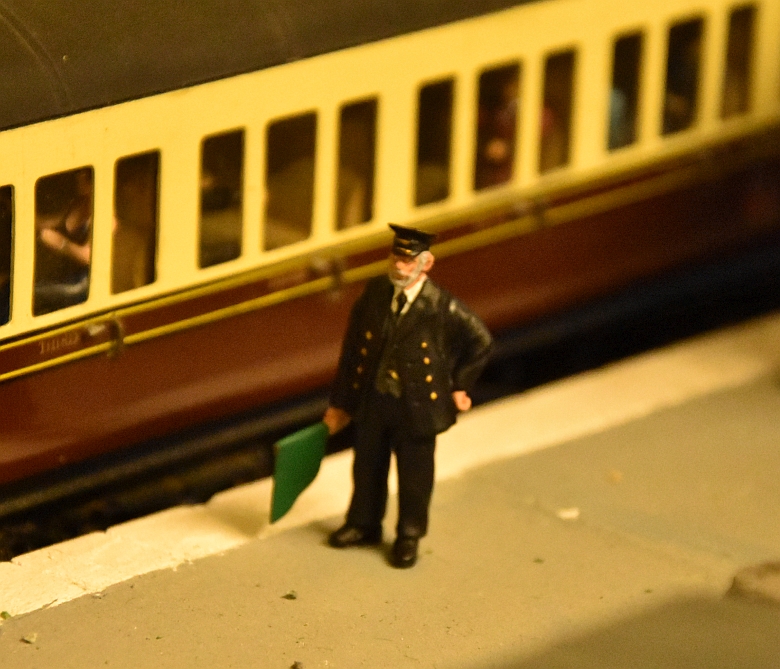 Guard with his flag lowered ready for the off!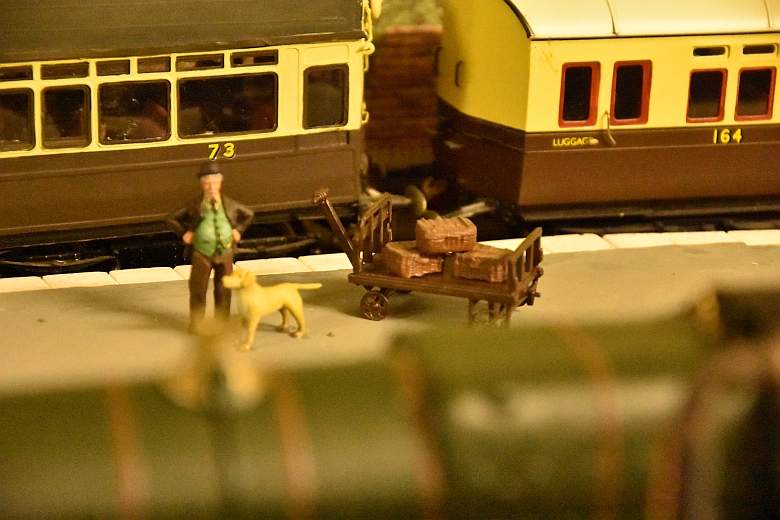 Country gent with his dog
January 2017
Another update on the 00 gauge Hornby Dublo layout. A couple more buildings I need seem only to be made by Scalescenes. I am using them for the first time and their products are downloadable prints priced at £4.99 and all they need is backing card etc to make them up. I have purchased the Gable Roof Engine Shed and the Coaling Stage.

The backing card was purchased on ebay from CYD Printing cost £3.49 and £5.49 for two sizes of A4 grey backing board, (1mm and 2mm), as shown below. Click the picture below to see how they are constructed.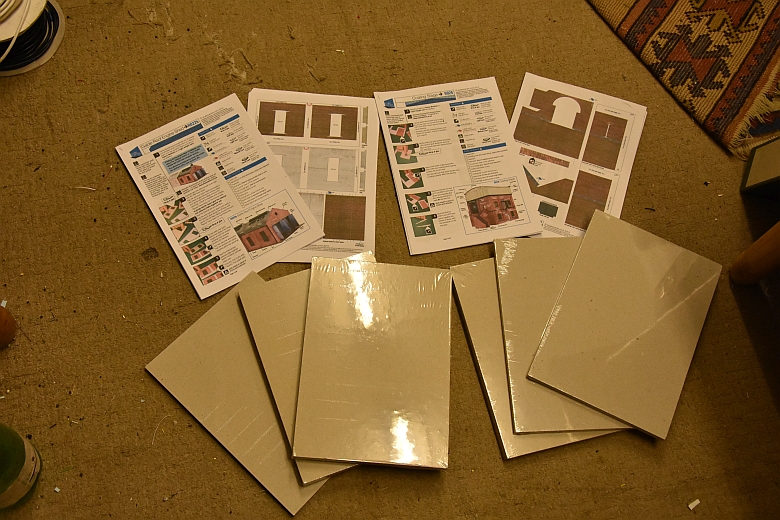 More people to populate the railway and a third loco to be lined.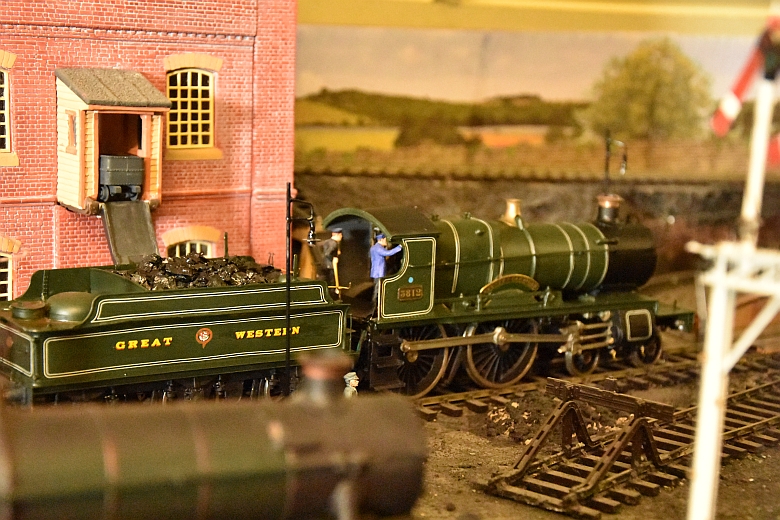 December 2016
Now that I feel more confident lining a loco. I have made a start on previous builds that I left plain green. City of Truro turned out to be a second lining exercise and now I turn my attention to the City of Cardigan. Click here to see how I managed to complete the lining.
Castle locomotive is completed. The 0-6-0 Peckett is under way with the chassis built and the body started. Click the picture to link to its page.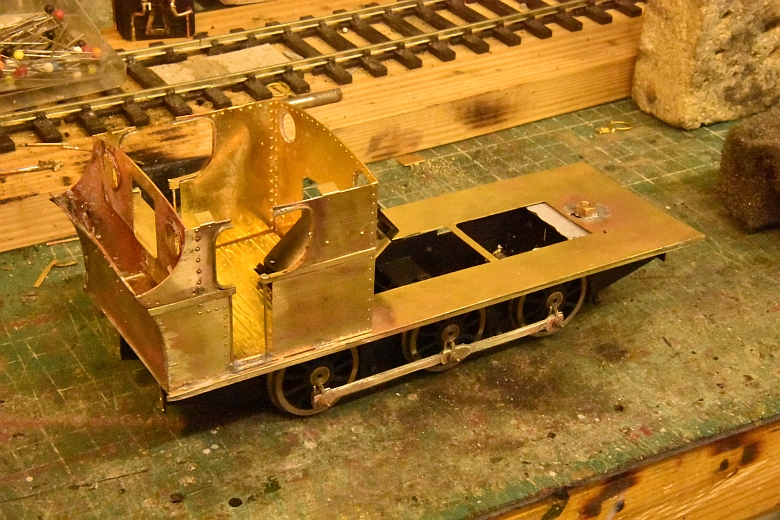 November 2016
A worthwhile acquisition and something I should have got round to getting some time ago is a fume extractor. This one is especially for soldering and flux fumes seems ideal. From RS Components Ltd and extra filters available as well for around £20. Its mains powered and sits on an adjustable stand as shown here. The first thing the fumes hit is the large filter. This avoids the user inhaling any of the noxious fumes created when soldering.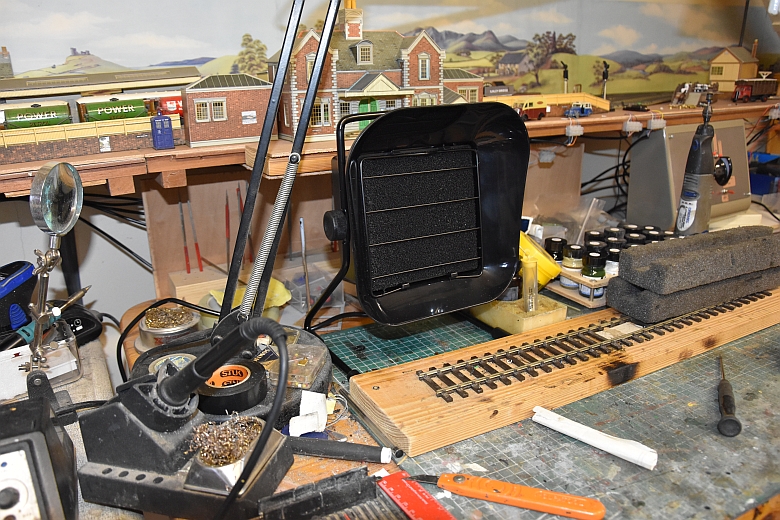 Most of this month has been taken up with the Castle Locomotive, its building, painting and lining. This time though I am making a concerted effort to line this locomotive and its tender, (something I have failed to do on previous locomotives). But if this one is successful I will go back and look again at my previous builds, (City of Truro for one!). Check out the project page here to see how this develops.
October 2016
The controlling project is well underway. A larger CDU has been ordered to control the number of points involved and larger control boxes were obtained to allow for all the wiring and switches to be housed easily instead of a 'crush'. Click here to see how it progresses.
Another diesel is added to my collection of Hornby Dublo 3 rail locomotives, the CO-BO. D5713 a diesel electric locomotive. Although its recorded that a few were given a headlight. Mine is not original though as no holes in the front panel have been made and the bulb and holder although old are not the same as the original Meccano Ltd drawing shown in Michael Fosters book on page 164. When working it lights up the whole of the front of the engine and the surrounding railway! But here it is on its first outing after a good clean and new traction tyres but before I have replaced the magnet with a new one.
Having replaced the magnet with a much stronger one there are issues with it collecting metal coaches as it passes them!
The Castle Class locomotive project is now focussing on the boiler and cab sections of the Warren Shepard kit. Click here to see it unfold. I have now started on the tender, click here to see how it comes together.
September 2016
I have been lucky enough to purchase a Hornby Dublo SR Horsebox intact. Quite often the doors are damaged, missing or have been replaced with different coloured ones. But not so mine. But I can see how they became so damaged as the tiny plastic catches on them are so fragile and the doors should open in a particular sequence which I'm sure small fingers never understood! I also have the box, (albeit with a missing end but that's not too important for me). It will take pride of place along with the Southern Tank and its SR suburban coaches. No horse with it but I have a couple as shown here with the horsebox. This example also has the early metal couplings but plastic wheels.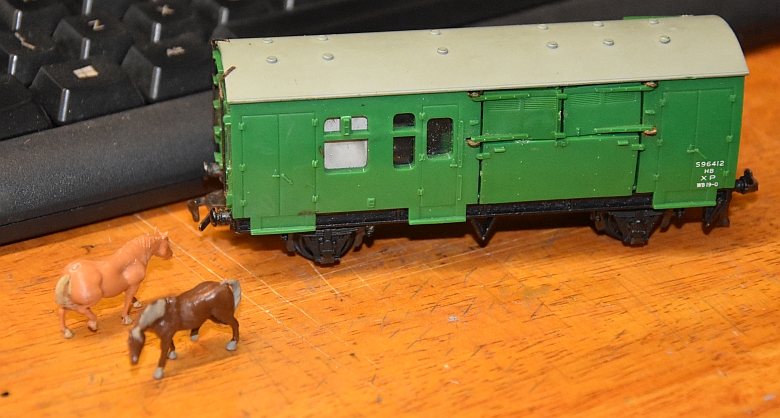 The horses fit into the wagon on each side:-
But a word of caution. The doors can and do open when in transit and they don't like hitting signals or platforms! So a simple solution is to put a small piece of Selotape on the floor flap, close it up and push the top two doors closed. ALL three are then held in place by the tape. As its not permanent it can be undone with no damage to the doors. No wonder finding one in good condition is difficult!!!
August 2016
Restarting the Castle Class loco and will make it up into Bristol Castle eventually. Click Here to see it progress. The main frames are now soldered together and the wheel and mounting unit is folded and fits between the frames nicely. The rear cylinder profile is fitted having measured accurately its equidistant position between the wheel bearings. My first concern is how I can make it flexible enough to take on the 6ft curves on my layout.
Finalising the wiring for the Hornby through station, (see below).
July 2016
The Hornby mainline station is complete and the signals and point system is under development and subject to several revisions. As it is an experimental design to go along with the other two setups i constructed using rotary switches and diodes this will complete a third possible setup that could be then applied to any layout. The main reason for using it was to show that you don't have to spend a lot of money to create a railway there are always alternative methods waiting in the wings! Here is a video of the setup so far:
A link to the through station project page is here.
June 2016
Finally started the Castle class loco in O gauge but ran out of butane for my mini flame gun so its on hold till supplies arrive! There will be a link to its own pages during construction.
Installing a new mainline station on the Hornby Layout with a view to controlling it in the same way I did for the sidings but making use of feather signals.
The 4 way siding control project on the Hornby layout is now completed. You can view its progress by clicking here.
May 2016
Started on a multiple signalling system for controlling sidings not using the multitudes of switches in normal use or extensive electronic circuitry but simple techniques with one rotary switch a couple of diodes and push buttons. Click Here to see how that progresses.
April 2016
The new upgrade for the ZTC base controller, (company now known as Taunton Controls) has been done. Its now a 611. A great turnaround time collected on Monday, done Tuesday, Returned Wednesday of the same week! Well done Taunton Controls!
Working on the Hornby Dublo wiring for a three lane siding with signal control. Click here to see how it progresses.
March 2016
Been away for some time but, a couple of interesting projects now started.
first one on the Hornby Dublo 3 Railway. Planned is several more colour light signals particularly one working a 2 point 3 way junction for storage. Click here to see how it progresses.
Also the line has been cleared and cleaned and locomotives are now running once again. Added to that there are three more locomotives to join the pack. LMS 6197 0-6-2 tank, LNER 9596 0-6-2 tank both currently in the workshop receiving a touch up to the body work and replacement magnets. Finally, to boost my diesel stock a co-co 3232 Diesel Electric loco.
Here is the latest video of my Castle testing out the route.
Not content with viewing the line how about a ride along it as shown here:
February 2016
Its time to concentrate more on the scenery of the railway. Much of it has been done piece meal and never finished off. So I am to make a concerted effort in that area. The railway has always been described as four contrasting pictures being worked on simultaneously. That is how I intend to proceed. Click here to see how that progresses.
January 2016
For Christmas I was given some Preiser people. More please they really are the best!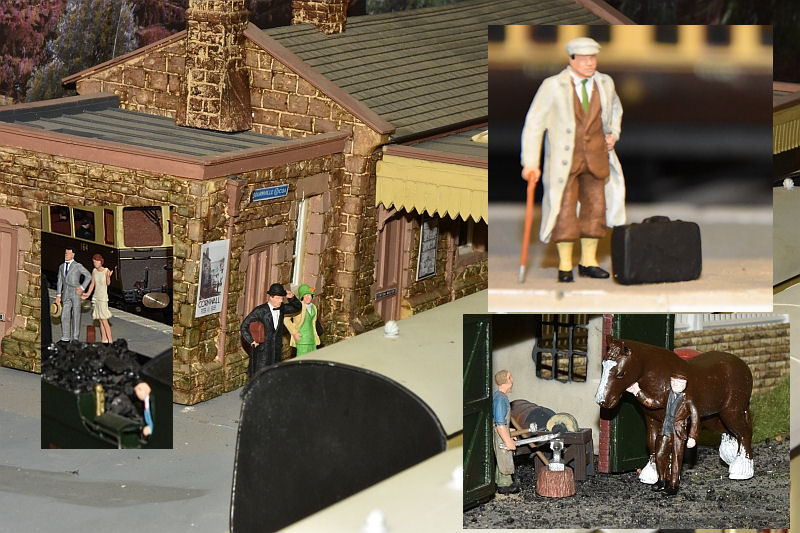 December 2015
I invested in some very cheap people on Ebay and used them to populate the slip coach. One character appears to be holding a gun so no doubt the railway police will be interviewing him after the coach has been slipped!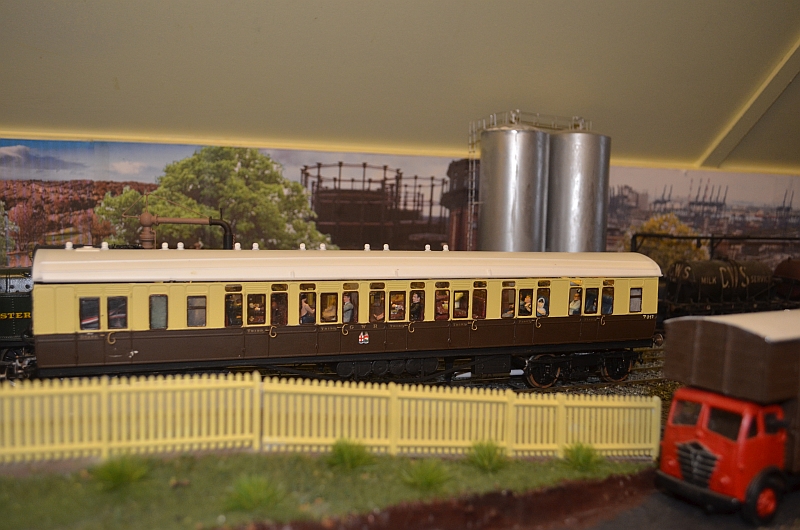 Signals are to become more prevalent on my railway but I'm opting for colour light signals rather than semaphore ones as I am not a fan of making them!
Investigating various kits but may come up with a surprise set of options in the mean time. Click here to find out more.
November 2015
Revisited the coal mine. This was because the coal for the gas works had to come from somewhere, and where better than our own mines! So the roof and building was re sculptured. Click here to see how this was formalised.
The control for the tippler is being worked on and the Arduino Uno is being programmed to drive the tippler mechanism. The building is finished and painted, the track on the platform replaced with a larger piece to aid alignment. Learning how to control stepper motors will take a lot longer than planned but is under way!
October 2015
The wagon tippler housing has had to be redesigned and new wall sections are on order. The project pages for the tippler have been organised into three sections as this will be a much larger project than first visualised. click here to access the project.
September 2015
The wagon tippler has been started but before I get too involved I'm putting together a trial set to see which is the best approach. I don't intend to rush this project and I see it taking up to three sections of design and planning. The first section is purely practical and logistical in that it has the space predefined and any manoeuvres have to take place within the boundaries set by the building. The second section will involve how the table is rotated by gearing and chain connections and the third section will deal with the control of the tippler mechanism using servos and DCC. Click here to see how this project progresses.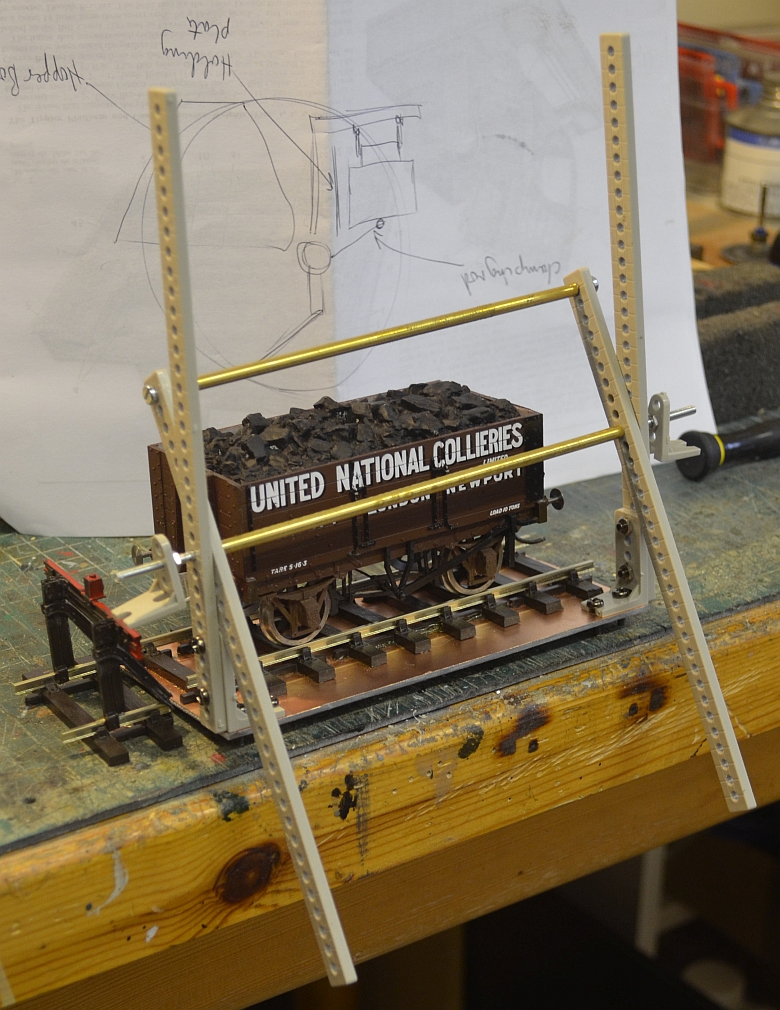 Lights for the engine sheds at Wallington Park and a new halt for local services at Longhampton Bridge, (see the home page).
Post Telford and the Gas works walls are in the paint shop and will be ready to fix around the buildings. The hole for the wagon tippler is cut into the baseboard in preparation for later works. A smoke generator is positioned in the chimney stack on the retort house. I ran a cable down the back of the stack to look like a lightening conductor.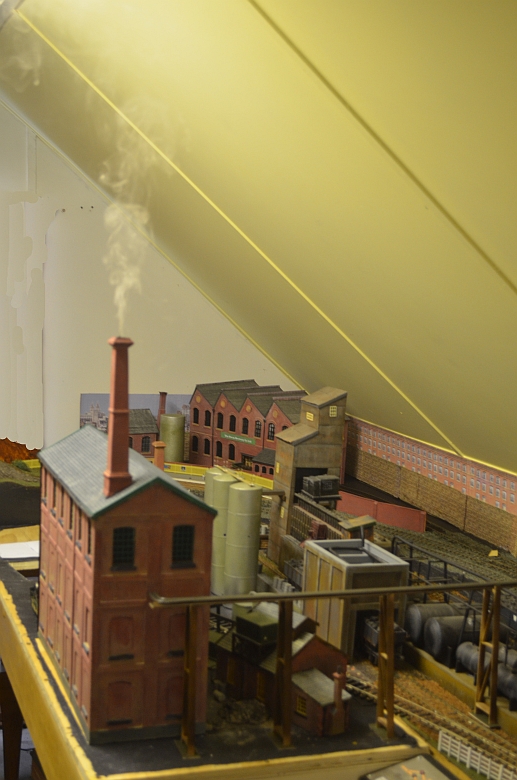 Loksound Programmer purchased to help adjust settings on my locos. A good investment and easy to use at the start.
Telford 2015 coming up and the shopping list is being created as I type.
August 2015
I've taken possession of some Kaydee couplers. I don't know anything about such things so there will be a learning journey here. Click here to find out what happens.
Still awaiting the retaining wall for the gas works.
The slip coach is 99% finished. Interior and testing completed. The interior lights were a bit of a problem but a voltage regulator has solved the problem somewhat.
July 2015
The wagon tippler project is gathering a little momentum. I've started to collect together all the gearing and infrastructure I might need to proceed with it in the near future. Click here to see it grow!
The retort House is finished, the brick wall around the outside is now on order. A possible project in the future is the wagon tipper in the coal crusher building. The gas works is almost a small layout in its own right. Guttering and down pipes are expected soon and will finish off the building. The last item is the retaining wall round the outside which I am expecting from Invertrain in the next couple of weeks.

The slip coach is going through the paint shop. Its interior is now complete and ready to be fixed in place once the paintwork is completed. There have been issues with the rear warning lights and i have stepped back from them putting Springfield lamps up instead of LED ones. The bogies of the coach have been an issue getting power to the ESU card onboard. I have restructured the bogies and this has improved matters. The Haywood wheels rust up very easily as well. The door hinges are soldered in place, the grab handles fit nicely as do the door levers, but it will have to be lined and windows fitted before these are put in place.
June 2015
The retort house castings for the gas works have arrived. Click here to see how the come together to finish off the gas works site.
Continuing with the slip coach. The coach body etches have arrived and are excellent. Working on completing the chassis and bogie connections and making sure that the wheels which are bearing led are free running. Click here to see it progressing.
May 2015
The malt house building sections have arrived from Skytrex and that building is nearing completion. The roof will be ordered from Invertrain Highland castings. Click this link to the granary to see how it materialises.
April 2015
The slip coach bogies, chassis and roof have arrived from JLTRT. Still awaiting the coach body, (a brass etch), from Worsley Works. The couplings are a combination of a Wayoh coupling and my design.
The gas works siding and buildings are in place. waiting for the retort building walls to be delivered having been cast by PLM.
March 2015
Starting to investigate another coach project following on from the TPO. This time its a slip coach. Click here to see how it develops.
The steam crane match truck still proves to be allusive but a drawing of one for crane No1 exists at the NRM. Click here to see how I develop that find.
February 2015
Realised that a granary store would be needed to complete manoeuvres and set about designing an extension much in the same way I developed the Creamery. Click here to see how it develops.
Started to develop a timetable for the railway. Making use of Excel to provide display opportunities using Macros. This will be a slow process, taking advice from Excel Gurus. Click here to see how it progresses.
Upgraded the videos on my site and utilised the SJCAM M10 small camera to take track journey videos.
January 2015
The Cowans Sheldon crane kit arrived. Click here to see its journey. Match truck details for it have been sent to an etcher, awaiting results.
Also on the blocks. A Warren Shephard Castle class locomotive and a Mercian Pecket 0-6-0
Moved the milk storage facility at Longhampton Bridge to the end of the station platform. Created a new road to access the same at the rear of the platform and built a new tanker lorry.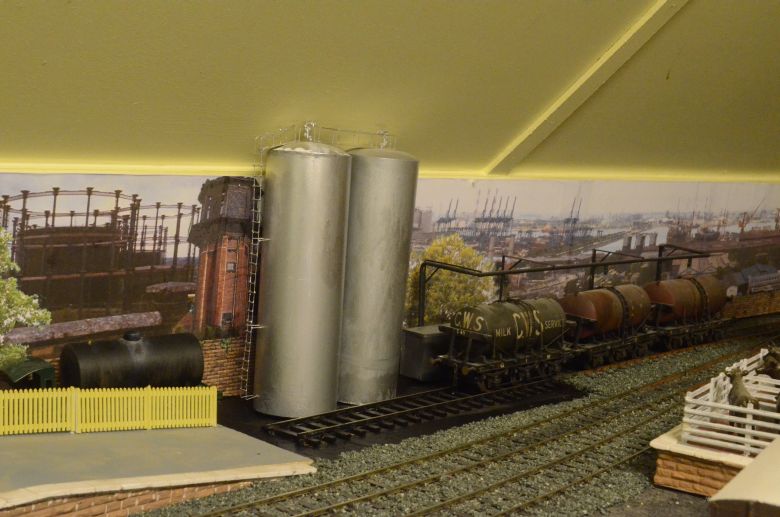 December 2014
Finally, got up enough enthusiasm to start on signalling the railway. To see how that develops Click Here.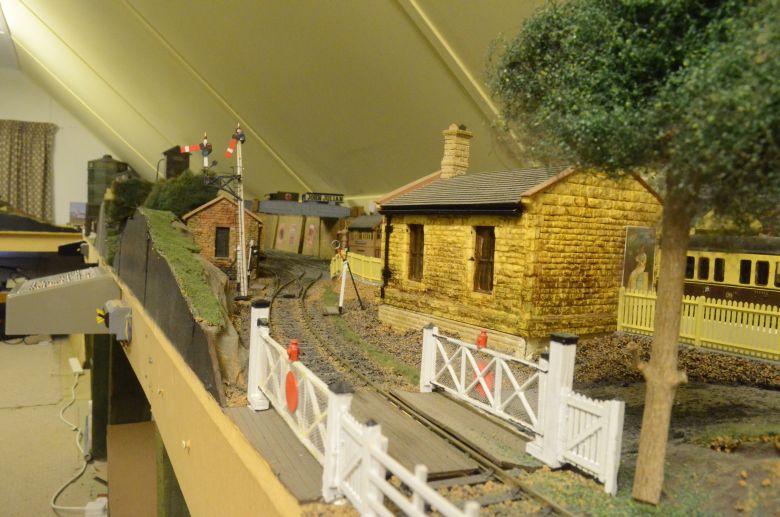 November 2014
TPO update: The painting is now completed and transfers are in place. The body has had a coating of matt varnish. Click Here to see the full story. Some issues in using JMRI to control the TPO have now been corrected, but resulted in a collision in the tunnel of the traductors which had to be re-soldered back onto the body.
Extra parts for the castle class loco I aim to start in the new year have arrived and is now 99% complete.
The TPO is in the paintshop after successfully completing trial runs dropping and collecting mailbags from the ground apparatus. Checking on the Castle kit shows some parts need collecting, (backhead, buffers, number plates etc). Collecting pictures from sources to aid build to take place later on in the year. The Peckett kit needs numbers creating for it from Guilplates otherwise it is complete and these are on order.
October 2014
The crossing gates problem could not be solved with the current kit so i decided to start again with a different arrangement from GFControls. Their PCB is much more sophisticated and can be used to control signals as well. The use of mini servos and digital 'pots' to fine tune the position of the servos is a great improvement and they do not suffer from 'judder'. For more about how this is achieved click here.
As the police due their duty the need for wagon to collect offenders is becoming more important. Therefore I have started the Morris PV van for them.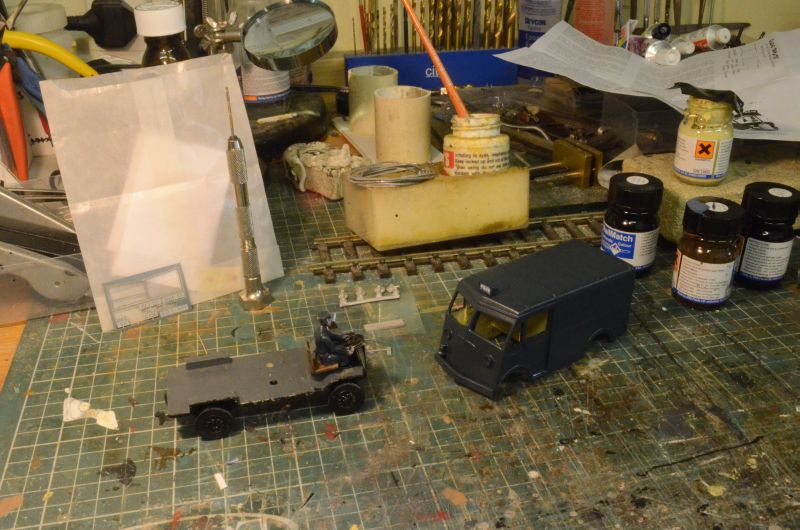 September 2014
Two more loco kits from Telford. A Warren Shepherd Castle class loco. A Pecket 0-6-0 shunter from Mercian, Sync disks from EDM models, Motorising kits from Crossinggate models, Roof sections, policemen and box from Invertrain, An Ocean Mails Coach from Western Carriage and Wagon works plus lots of small stuff essential to my hobby.
Control kits for the level crossing gates are proving problematic as shown here:
August 2014
Organised the TPO coach fittings and frets and made a start on the wayside pickup apparatus, (see July link for more detail).
July 2014
Begun the project on Travelling Post Office service on the railway. Click here to see how that progresses.
May 2014
Changed the brewery into a real building on the far end of the layout that has been neglected. Click here to see how i developed this area of the layout.
Updated plan with latest images showing layout as of today. Click on Plan above to view.
April 2014
The station waiting rooms have been completed, (see the updated plan for images).
00 layout have begun integration of points and colour signals using old 2 rail points, Click here for details.
March 2014
The station building that sits alongside the canopy is to be extended and the waiting room has arrived for that to be done.
The 00 gauge layout has had an upgrade of electric points at strategic places on the mainline and the switches for these have firstly been Eckon which have been replaced by Peco switches and a CDU has been added to give a little boost to the points working. Click the link in January below to see how that has progressed.
February 2014
The canopy has waited for its valencing which arrived along with the news kiosk and these have been completed.
January 2014
My 00 gauge layout on the ground floor of my office is now due for a slight upgrade. I am to extend the layout to include a double mainline track. Currently this is only down the station side of the layout. The ledge on which most of it is laid will have to be widened and this i intend to do with 2mm MDF board 6" wide. Click here to catch up with this development
In the new year I intend to start on the station project I've had in mind for some time. As a start I've swapped over the station buildings from Wallingham Park and Longhampton Bridge.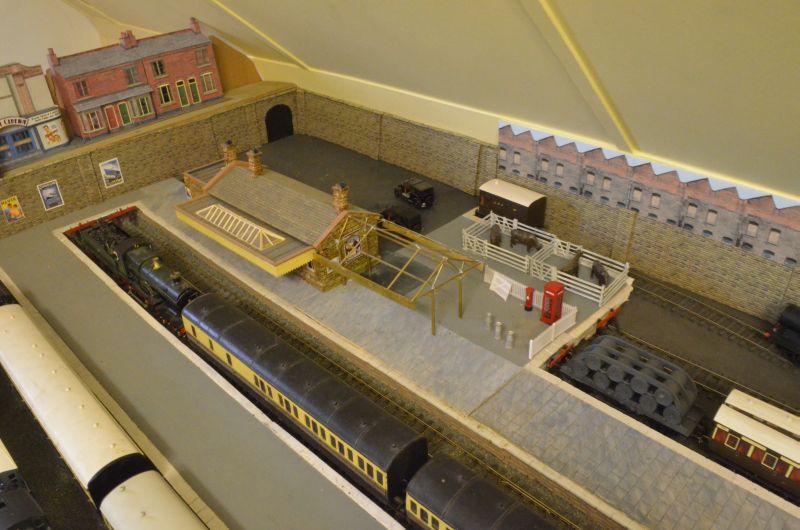 There is a small covered way to the right hand side of the building that will finish it off. Then on the near platform there will be a long covered canopy. All the detail will be in this section of this site. Click here to see how it progresses.
Longhampton bridge now sports a much larger building which looks better now in spite of the restricted platform space. (see below).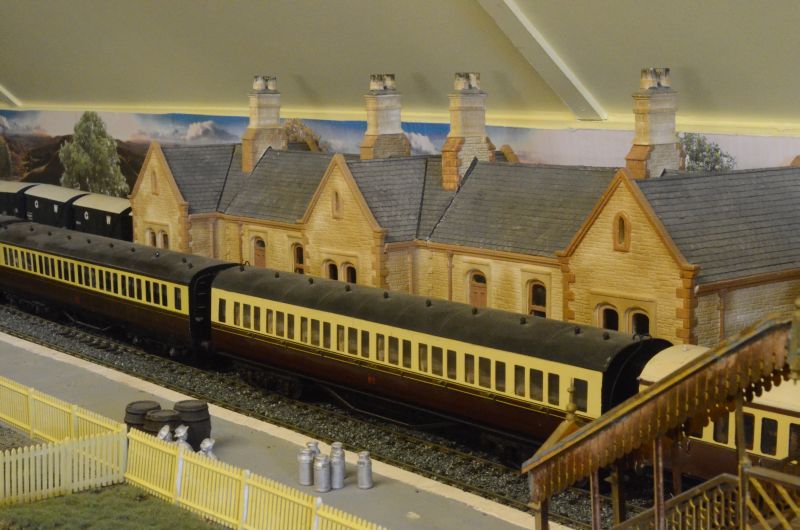 December 2013
The cattle dock I ordered at Reading made an appearance yesterday so I've ordered a platform plinth for it as its a double one it will need strengthening. Then the vertical posts need to be cut and the horizontals to the gates also. Click Here to see how that progresses.
There are quite a few folk on the railway that have needed painting. One of those get round tuit jobs. Well I'm pleased to report that 99% of the existing folk have now been seen to:
3 geese arrived in my Advent calendar and are now with Mary and her chucks. A Fordson, Low loader, Presflo now join the ranks of the unmade and await construction. Found another Poundsbury wagon on a resellers stall and grabbed it for my coalmine, (its a Slaters discontinued product). Also bought some 'I aven't got any' from Invertrain and Skytrex and have plans for a large canopy built using lime strip wood from Westbourne Model Co ltd See the January notes above
November 2013
Iron cattle van is finished and an industrial transformer was also been finished from Duncan Models. Carried out some improvements to the 00 gauge layout as well, (see index page for links and info).
October 2013
Started the WEP Iron cattle van, its a riveters delight!
Built the Hydra - documented in the modelling kits section.
Built the LMS Milk wagon, (see the modelling kits section) - now completed and painted with some revisions.
September 2013
Completed the third coal hopper for the coke works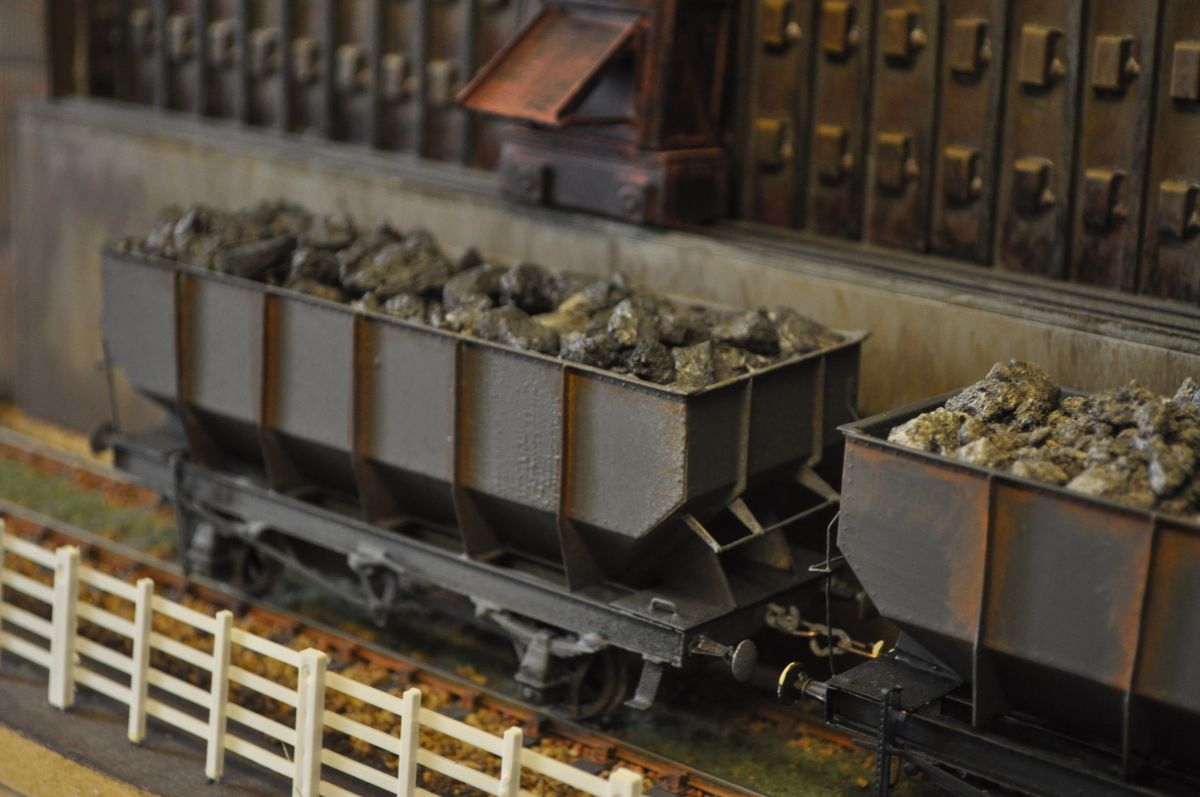 August 2013
Completed ballasting the mainline.
Installed and set up JMRI software and bought in a PC adapter for the ZTC 505 base controller. Downloaded the WiThrottle app for the itouch. It can control all my locos wirelessly. But it is limited in how it communicates with the DCC chips, (can't programme with it unfortunately and had to guess which chips my locos had in them as the program couldn't read them.. My handheld controller is still with ZTC. Click here to see how this was accomplished.
Completed building one of two LMS coal hoppers for the coke works.
Attended Southwold model railway exhibition and have some interesting info on JMRI and wireless control. (see home page). Also have a milk van from Connoisseur Models.
Created another new siding for an engine shed at longhampton bridge station, (see June entry below).
Moved email address to my web host as BT are insisting i now pay for my talk21 email address which has been free for a long long time. No thanks!
July 2013
Purchased two coal hoppers from EMKDE. Brass fretted models and will make a start on them to add to the stock in the coke factory. - ongoing.
June 2013
Alterations to Longhampton bridge Station
I've decided to cater for the increased volume of traffic into the station by creating an extra bay. Click here to see it transform.
Moved Web hosting
After trying to get Talktalk my web host increase my allocation from 250Mb to something more realistic which was inherited by them when they purchased Pipex, (as they now only offer 15Mb - yes really!), I have gone with another provider and within 24hrs we are up and running again with mega amounts of room!!
May 2013
Attended the Reading show and came away with a Ruston Diesel Electric 0-6-0 and a 6 ton hand crane truck. Both will be started in the coming weeks. The Diesel will find a home at the tar and coke works and is one from Mercian Models. The Crane Truck is from Meteor models.
Click here to see how the diesel progresses
April 2013
Started the garage and forge buildings. Space is a premium here so compromise is the name of the game. Click here to see how it progresses.
Started a Scammell 3 ton mechanical horse. Off the shelf at last after a 2 years wait. This S & D model like all their others goes together easily and is a joy to have on your layout. Once this is completed I will add the scammell trailer that goes with it.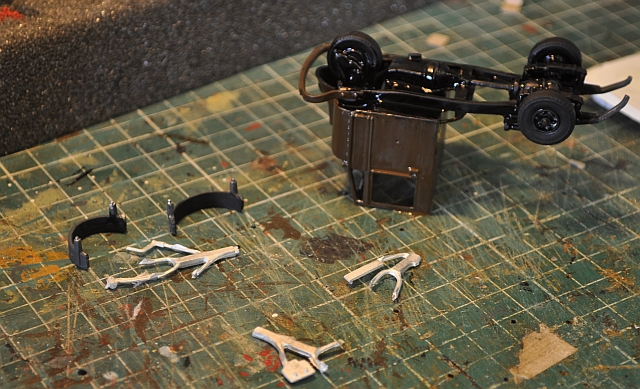 And here is the finished article: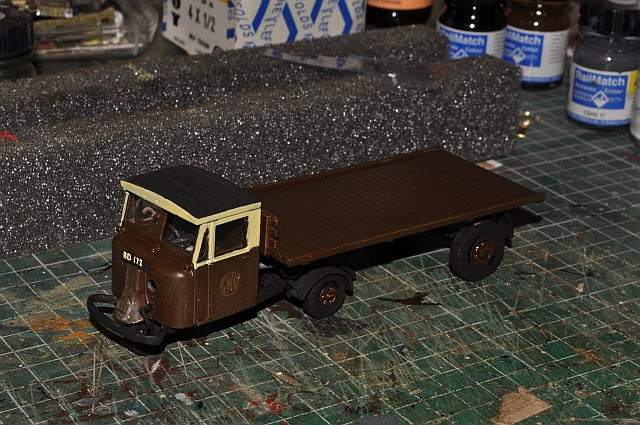 March 2013
Purchased a further range of the Purple Bob kits to complete the high street and another street on the layout. The weather continues to restrict the amount of time spent on the railway. So these houses may not be completed for a while.
February 2013
A loco hoist and workshops have been started behind the large engine shed, (click here for details). I have plans to start a garage and forge that will be placed behind the station at Farringbourne Hill facing the coal mine. Hornby O gauge clockwork stuff has all but gone now thanks to eBay.
January 2013
Came across Purple Bob buildings these really are excellent and started a row of terraced houses and a cinema. Click here for more details. Still very cold and snowy outside limits work on the railway.
December 2012
Started a collection of Hornby Dublo trains, something I had at age 6 and wanted to revisit. Click here to find out more. A mouse moved in but was removed by railway police!
November 2012
0-6-2 tank is finished and painted. Bought a load of O gauge Hornby clockwork rail stuff - overdid it but its all in aid of Christmas activities! See home page for links and more details
October 2012
Signal control is now being investigated click here to see how this progresses.
The 0-6-2 tank is now nearly finished, (links to that project on the home page or search for 0-6-2).
September 2012
Drivers for the Swan brewery on their way.
A couple of Beer vans now sit on the line.
HMRS transfers arrive to finish off the County of Cardigan. Notoriously rough riders, mine seems to be the exception!
August 2012
Ordered a number of barrels from Ten Commandments which duly arrived and were painted.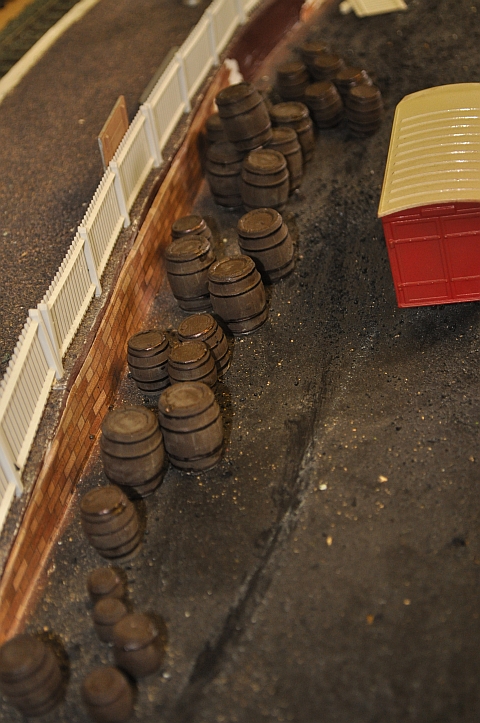 Started to finish the other corner of my layout with a brewery. Click here to see how it developed. Realigned the track and the station rear to accommodate it. Ordered a number of delivery wagons, (four in total) from eBay. The Corgi classics 'Swan brewery' wagons are ideal and with a bit of weathering look the part!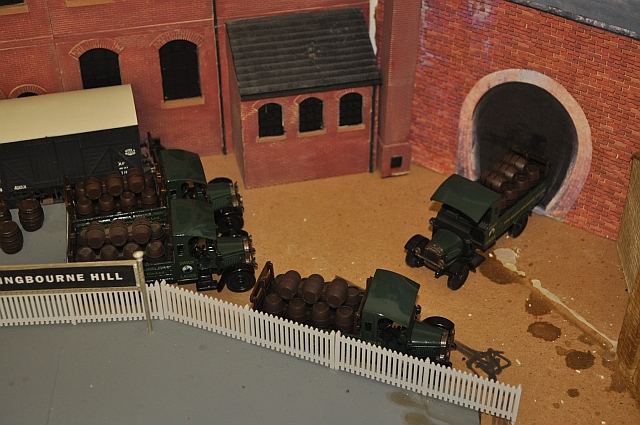 July 2012
Made a start on the industrial loco for the coal mine. A Berkley 0-4-0 will be some time before its completed but the chassis and drive have been begun.
Completed the County loco and the name plates have arrived and been fixed in place, (County of Cardigan). Unfortunately, the Buhler motor is not strong enough to drive it and stalls under light load. So I've had to install an ex Ron Chaplin motor and gearbox, (now sold by MSC Models), which required some butchering of the cab space to get the bottom large gear wheel in. But that is now in place.
June 2012
Started building the County Loco from David Andrews. Any comments re the build of this kit will be about my capabilities and choice of extras and not David's kits as they are one of the best on the market. Click the image below to find out more.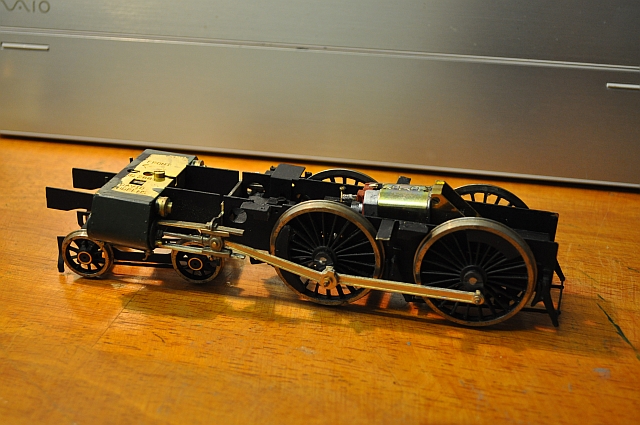 May 2012
A couple of wagons have been completed a tar wagon from Slaters and another tank wagon from meteor models. I have a number of road vehicles coming to complete the traffic into the tar works. Also managed to obtain a fire engine. One of the Signature series of vehicles at 1:43 scale. Some firemen from Pheonix models will finish that off and once the engine has been 'doctored' it will look the part. Its a 1921 Dennis N type as shown here: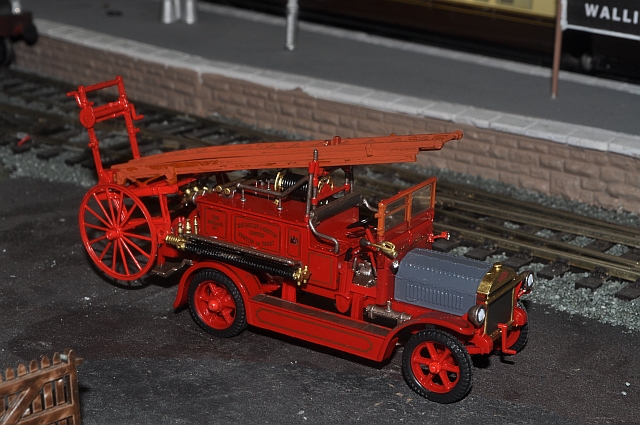 Below is one of the tankers.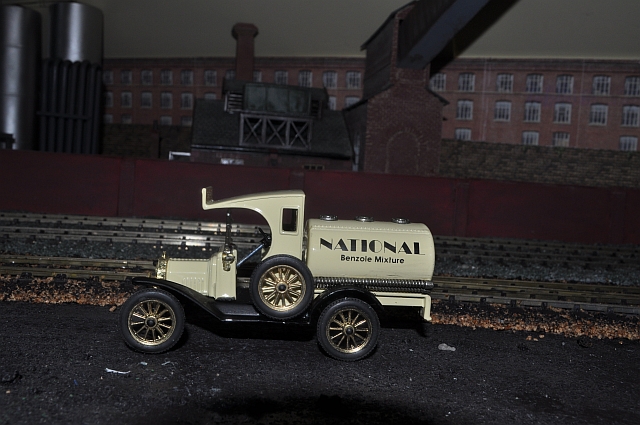 The industrial area is nearly completed. The wall for the gas works is now in place and given first coat. Awaiting the spray cans for weathering. I have discovered that acrylic spray is very fine almost like dust and if used carefully can weather items exceptionally easily. More on this once they arrive. A tank washout unit has been built and is in situ at the other end of the layout to the creamery to give purpose to trundling tankers back and forth on the line. The ammonia separation tanks for the gas works are also here and are in the process of being painted.
Below is the final assembly of the gas works with all in place.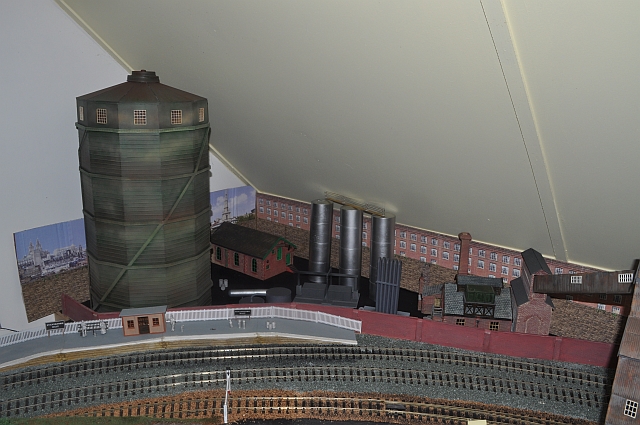 March 2012
The coke works and tar factory are nearly completed but will all have to be removed so that the main line behind can be ballasted and the retaining wall I have just cast be stuck properly in place.

Just completed a tar wagon and tanker for the site but made a mess of the wheel alignment on both - need to be sorted and tar tank from Slaters is a light plastic one that is in need of serious weighting.
The corrugated cladding has arrived for the coke works from Kemilway.
I have a number of items waiting for me at the kettering Spring show:
The walls for the creamery and a couple of tank wagons from Invertrain.
A Berkley 0-4-0 loco kit for the coalmine etc from Mercian
A number of painting sprays and paints for weathering from Squires, (thank goodness they are still in business!).
February 2012
One major part of the layout is devoid of any interest except for a small goods shed and storage sidings. I am to plan a large industrial complex there to straddle both sides of the main line. This may entail moving the halt. Click here to see what I intend to create.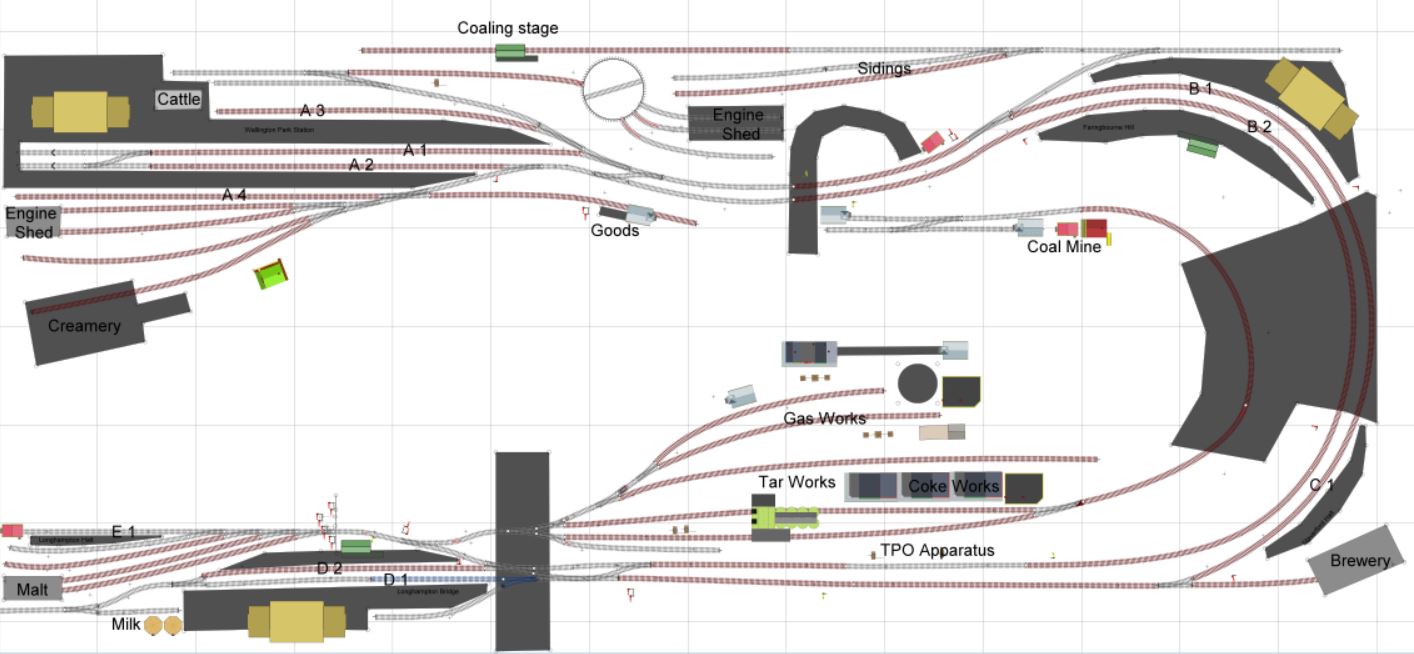 Click on the map above for images taken on my layout. As things develop i will update the pictures.
January 2012
Concentrated on completing the creamery and then the electrics for the turnouts. Installed a new set of switches and upgraded the motors to house micro switches instead of the cheap sliding ones. Two turnouts were giving trouble so one has been replaced. The existing one did not have any wiring so had to be raised and reset, (not a difficult job as the ballast is PVC glued and wetting it makes it manageable again.
A single line token exchange apparatus has now been installed. Click here to see it insitu. Two height gauges are in the workshop.
Archive stuff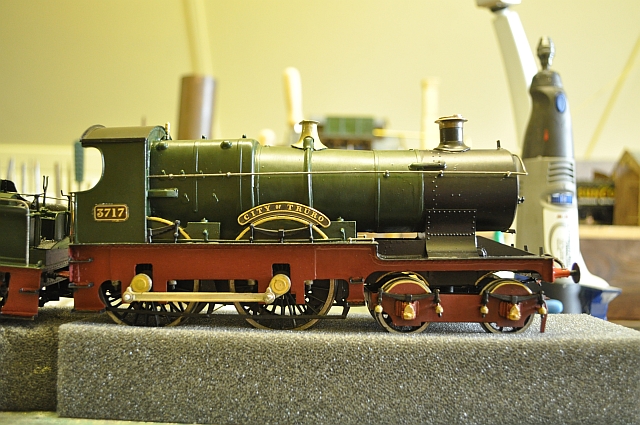 July 2010
City of Truro after the painting and finishing. Click here to see a video of this loco driving around my layout.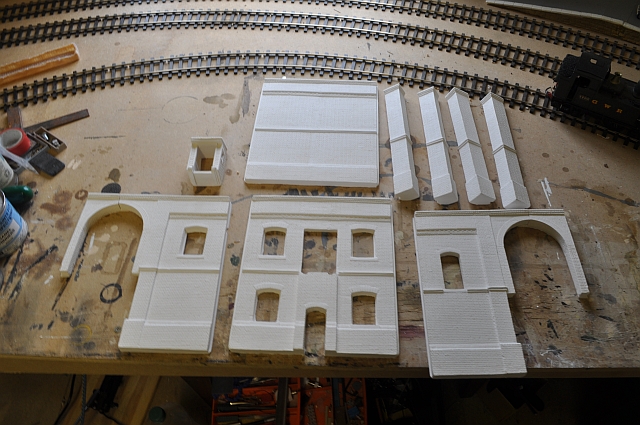 September 2010
Having missed Telford this year, I managed to get a friend to track down a coaling stage made by Townstreet. It arrived today and here is the basic structure ready for painting before putting together. Click here to see how it progresses.

May 2010 (Updated 2011)

The current layout has been extended with an extension to the station way with a goods yard. This will allow for much more movement. Click on the map above to view actual images of the layout. A new platform is in build mode and a large scenery area with tunnels. Ballasting proceeds slowly. I will update the map and links shortly.
November 2010
GWR footbridge arrives Click

here to see how it progresses. Still waiting in the wings, (March 2011)

Trackwork: Having glued the trackwork in place, (I use Bostik and line of sight to square things up and make curves look 'transitional', its then necessary to ballast it. I use grey ballast for mainline and brown ballast for sidings etc. Peco make a medium grade for 00 which I think is perfect for O gauge! Click here to see how I ballast my trackwork.
Scenery Work(1): A lot of layouts lack scenery touches that create the illusion of landscaping. Even with a flat boarded layout it is possible to create an undulating landscape. Click here to see what I have been developing in this arena. My philosophy is that I'm really trying to paint a large picture not build a model, (but more of that later).
Scenery Work(2): Creating large areas of brickwork that look real is not an easy task. I chose to experiment with latex. Click here to see how I've made a start.
Scenery Work(3): Work has now started on the end dividing area of the layout that needed three tunnel mouths and a substantial mountain development. Click here to see how I create my divider and make the mountainous area as real as possible using a few well tried tricks.
Scenery Work(4): Building on the mountain area there is a need to create foliage with hedges and shrubs dividing up the landscape there. To see how I create the illusion of leafy hedges and small shrubs click here.
Electrics: All points have PECO motors attached beneath them. To see what I've been doing upgrading how they work click here.
April 2011: Station Throat Issue:
Due to electrical faults in one of the points just outside the station it had to be lifted and re-laid. This caused alignment problems and as it is a busy part of the layout the decision was made to replace one point and rebed everything. Click here to see how this was achieved.
May 2011: As an addition to the scenery I have been creating I
Decided to add on another section based on a photograph in the Somerset and Dorset in the fifties book by I Peters, (illustration 96). Click here to see how I developed this addition and the effect it has had on that part of my layout.
April 2011: Finally got around to naming the stations. I will be revamping the map below with names as much has changed since the planning stage. As this is a fictitious layout the main station is now called Wallington park, this connects with Faringbourne Hill on one side of the mountain divider and Staverford Halt on the other. The line then comes into Longhampton bridge where it ends at present!
July 2011: Wallington Park has now applied for planning to expand its sidings. This will necessitate the acquisition of a new piece of land and a change of pointwork. Click here to see how this progresses. There has been a request to add a new halt down the single line that leads to sidings and the engine shed at Longhampton Bridge. As this will occupy land already owned by the GWR a platform has been constructed and access by the public is via a walk way across the line is provided. It will be known as Longhampton Halt. Click here to see how this progresses.
If you click on different parts of the map above you will be able to see how each part of the layout has progressed, (currently revising the map and using a new program to compile it called Anyrail - not a free program but excellent), click here to see an example map compiled using it..
November 2011: The steam railmotor is completed and runs as a DC driven vehicle ok. Am now converting to DCC and sound, (see right for details). The creamery has been completed all but the roof. Lighting and internal details have been created and added. The track is ballasted and filled in and people are beginning to populate this area, (see right for more details).