Projects for the year 2018
October 2018
Final canopy for Wallington Park Terminus station building. this is the current state of the building: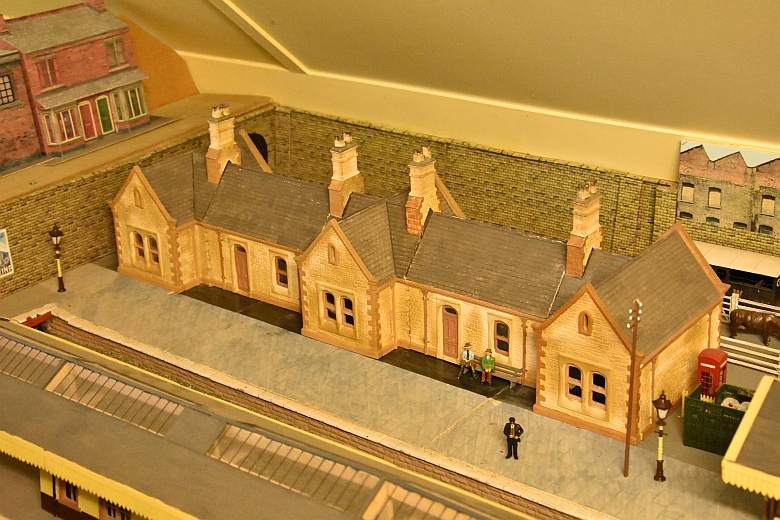 Adding lamps to all the station platform areas. Something left off for some time now. But purchased lamps from Layouts4U.co.uk at £5.00 for a pair, (includes a resistor so they can be run from a 12v DC supply. Cut every other lamp support as shown below and painted in GWR colours. The lamp on the right has not been modified.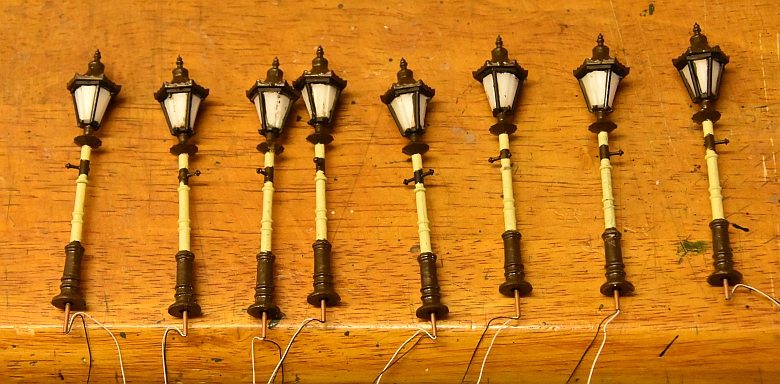 And.... this is how it looks after dark: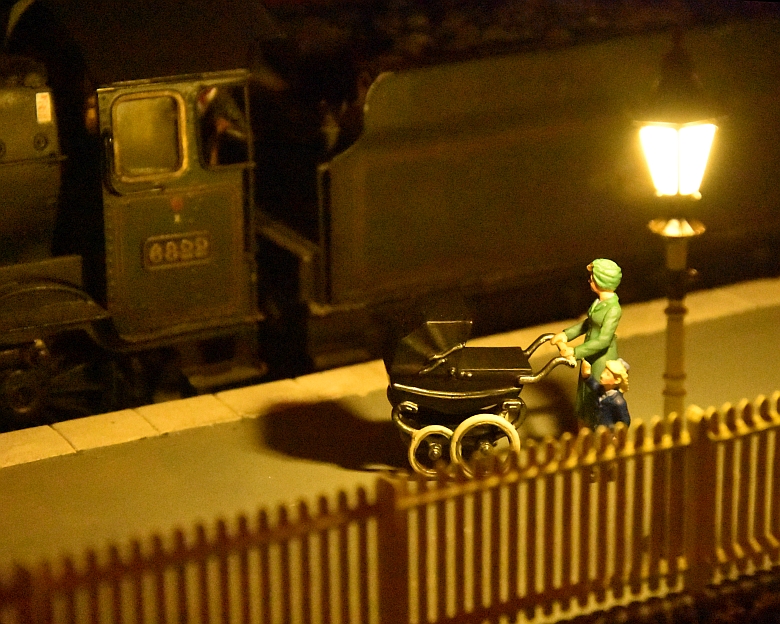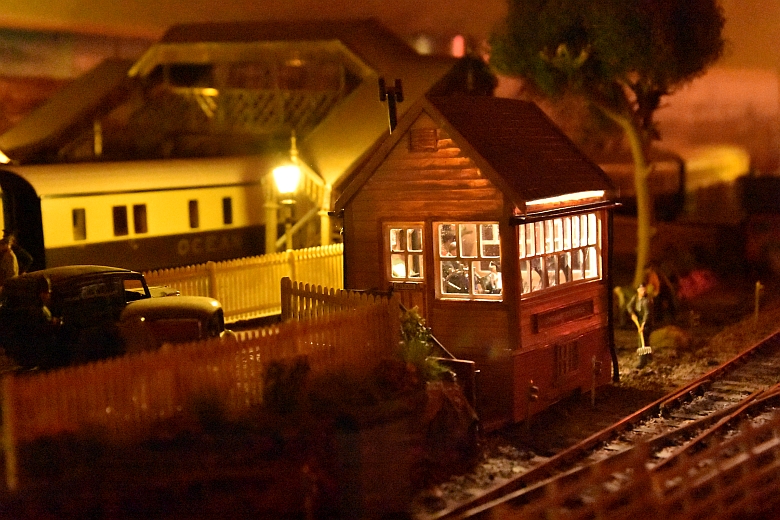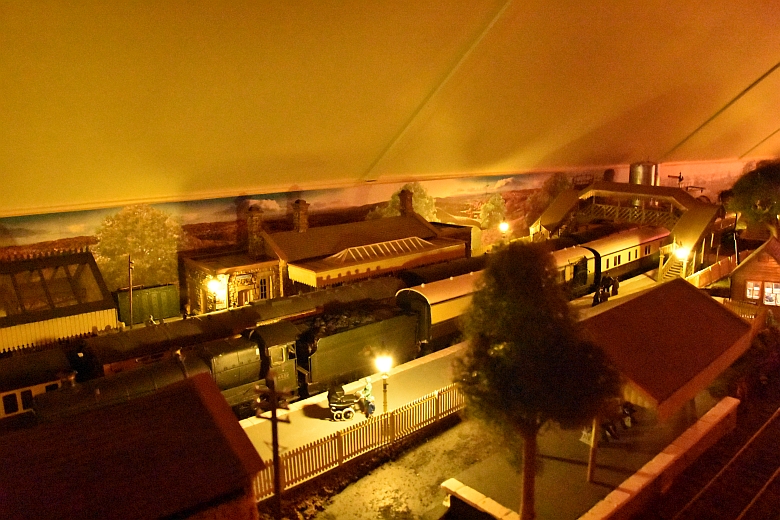 September 2018
Laser Cut Railway Models station canopy. Two kits built as one canopy.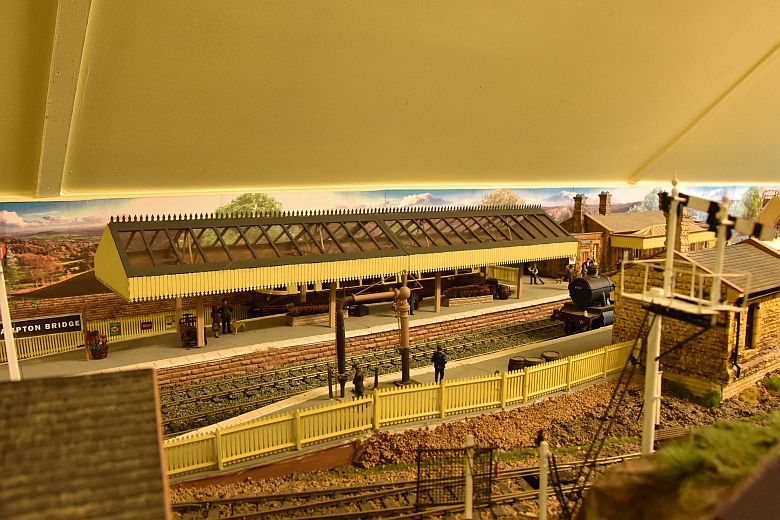 Telford Gauge O show 4 new Minerva gunpowder wagons shown below: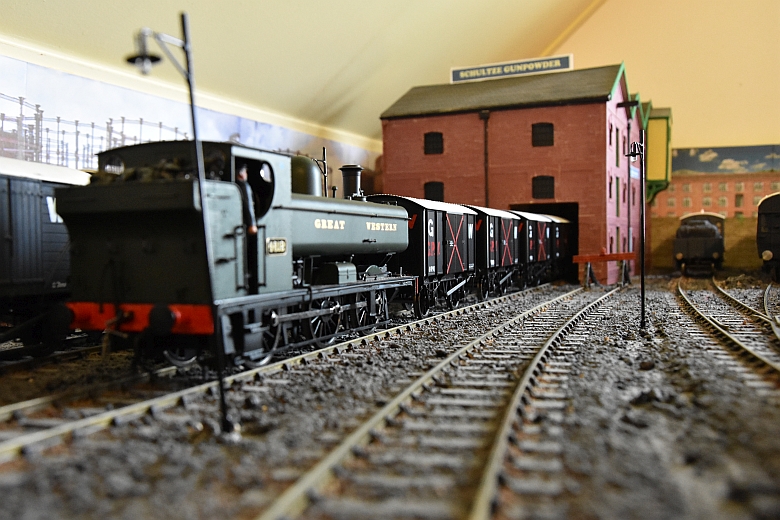 August 2018
An open top Austin has pulled in to the garage for fuel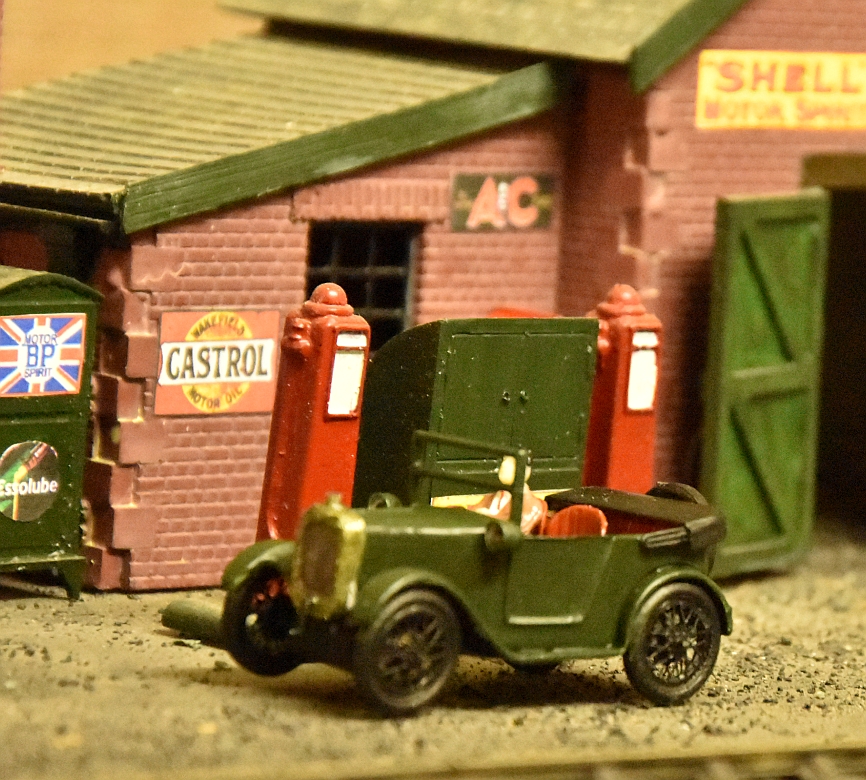 Our king of the highway as taken ownership of his new home:-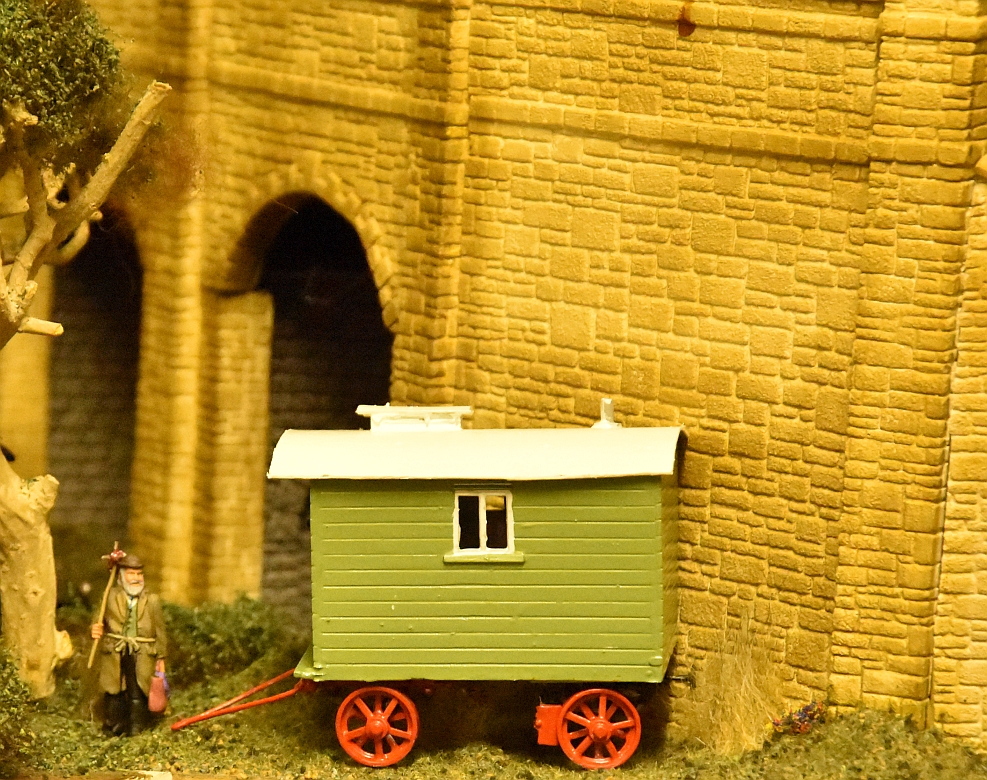 In anticipation of a Telford visit, the Malt building has been taken over by the Schultze Gunpowder people and production will start in the next couple of weeks. The GWR will be distributing their product in specially made wagons from September onward!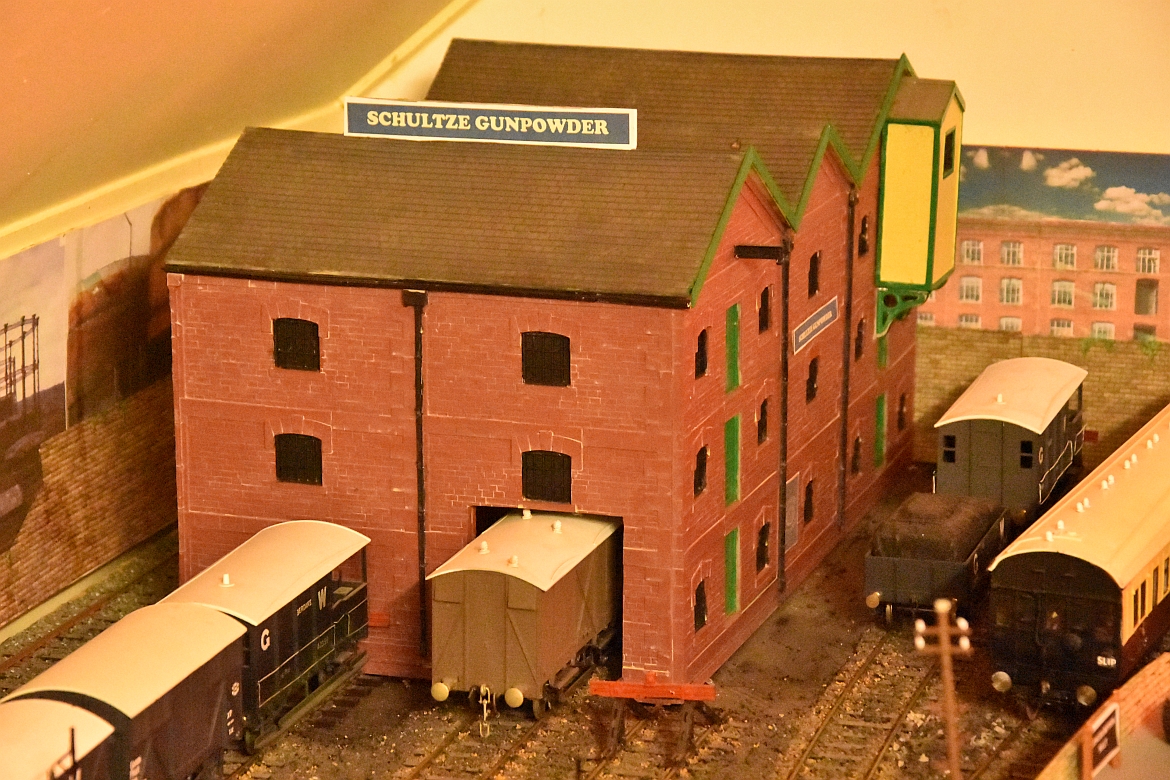 The sidings at the other end of my railway now have yard lights as well:-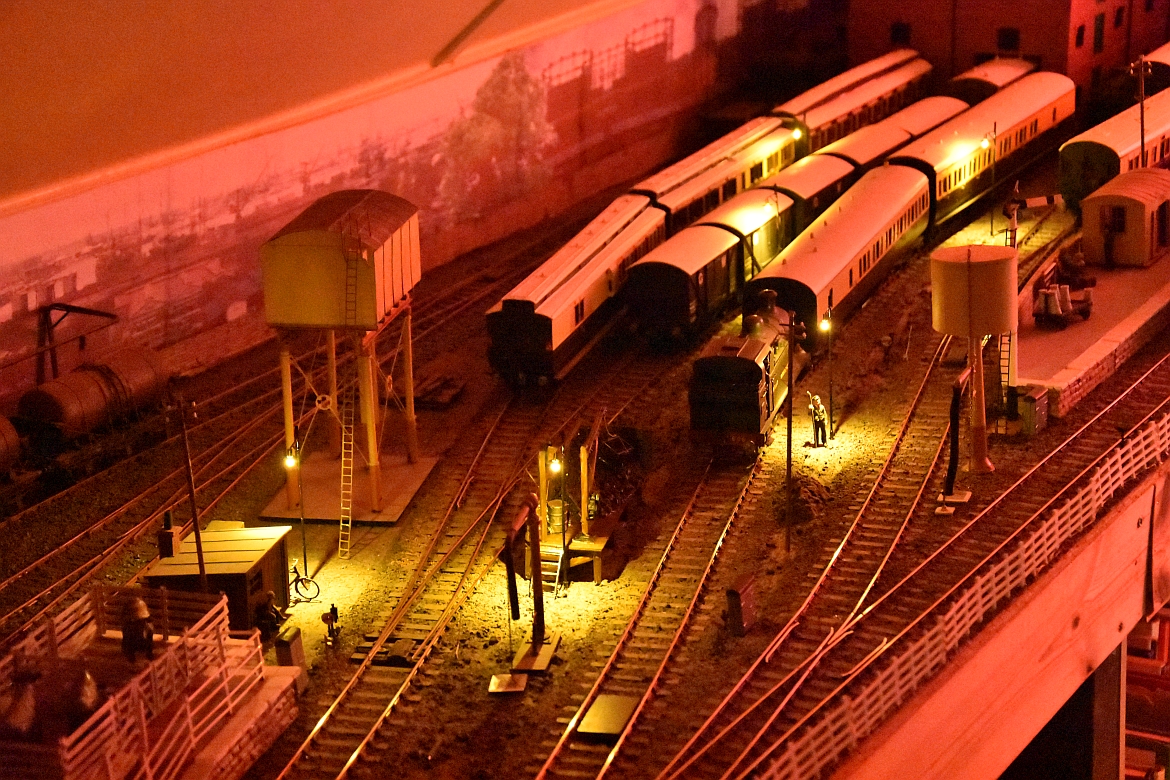 Having attended the Southwold Railway Show, I came away with an oil dispenser for my garage. Which has been duly painted and sited at the front of the garage.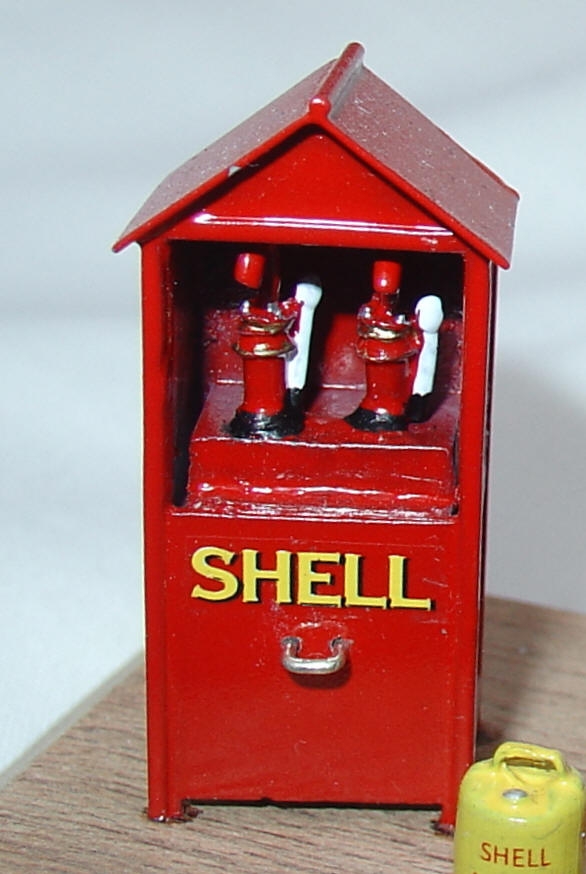 July 2018
Some areas of the railway are not powered all the time but only according to the road the points are set to. This is fine for DC but not for DCC particularly where sound is concerned. As all my locos have sound I'm rewiring the roads from point frogs to give them power on all the time. This necessitates insulating the frog and then supplying appropriate feed to the onward rails.
June 2018
Ground signal levers installed on the railway.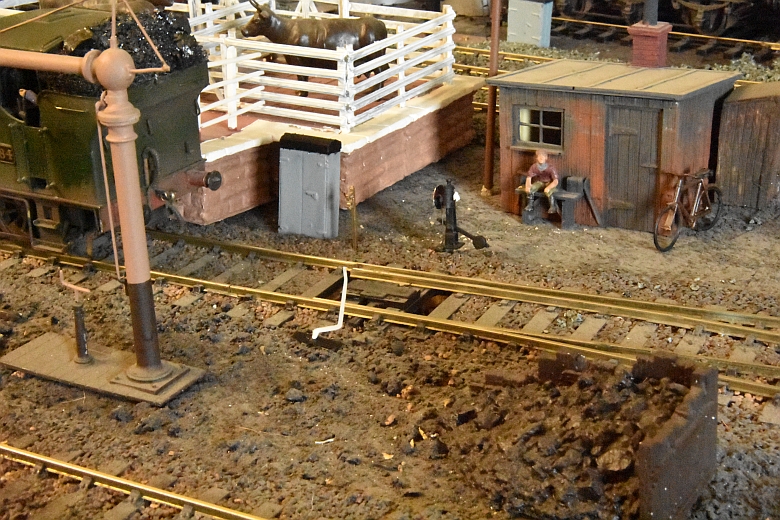 May 2018
A rearrangement of signals at the throat of the junction was necessary. Click the signal option above to check it out.
A new water tower is installed for the pilot station shunter.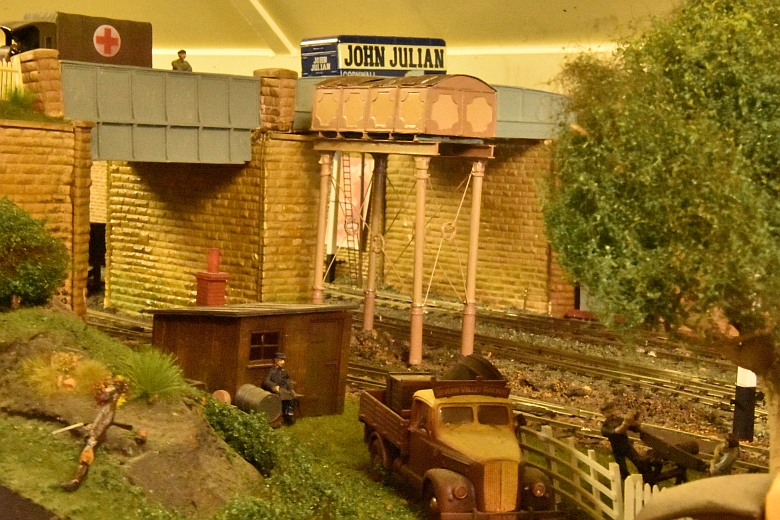 Signal changes at the junction leading into the gas works are now necessary as the station pilot is housed at its entrance on a short spur. Select the Signal option above to see what that entails.
April 2018
Laser cut Engine Shed
Just had the pleasure of making my first laser cut model. Some on the market are well overpriced, but i came across a great small company at www.Lasercutrailwaymodels.co.uk I chose the fine scale engine shed at £33 as I needed to make a small shed that would fit into a tight space. Could I cut its length down? Could I narrow the width? Yes of course I could and the end result is pretty much perfect as shown here: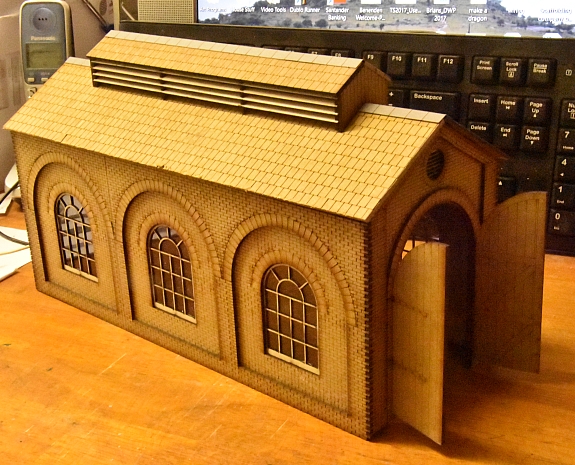 Here it is insitu in that confined space: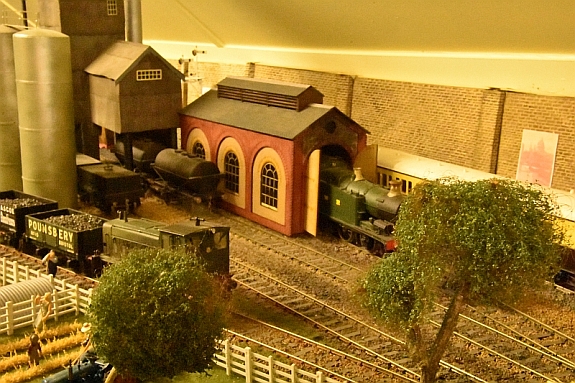 The Signalling project has had a rethink. Although it is 90% correct there are some blindly wrong assumptions i made in setting it up that now needs addressing. To see in more detail what this means click here.

0-6-0 Pannier from CRT Kits
The CRT kit 0-6-0 has had pickup issues and due to my forgetting to set the bearings I have now dismantled and re-jigged it. The bearings are soldered in place and the wheels reset. I'm currently running it in again to iron out any clunks etc. This process takes up to an hour running in both directions before DCC is even contemplated. Hopefully this will cure the pickup issues as well. I was using wire and now will use phosphor bronze strip instead. Running in is shown below.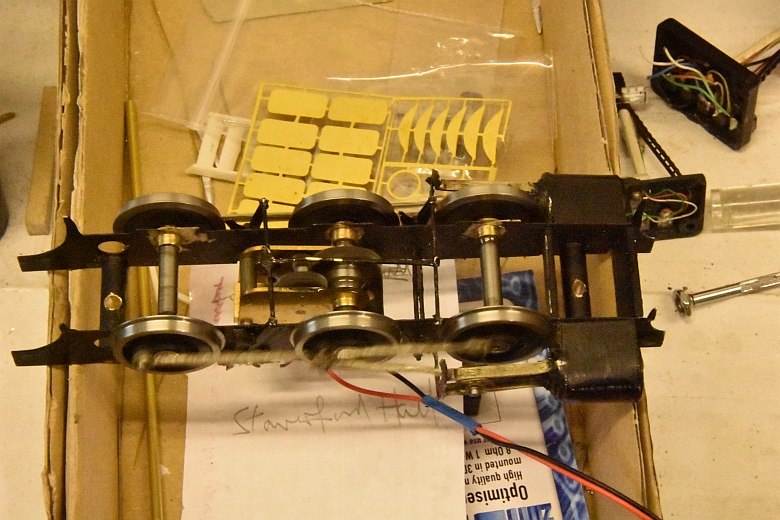 March 2018
Signal Boxes
My last two signal boxes have arrived from Invertrain and a start has been made on them. I have arranged lighting in the roof. Stuck black card on the inside of the roof plates and am awaiting two figures from detailed Miniatures to finish them off. The kits include everything you need to create the boxes, (internal details, drain pipes guttering barge boards etc.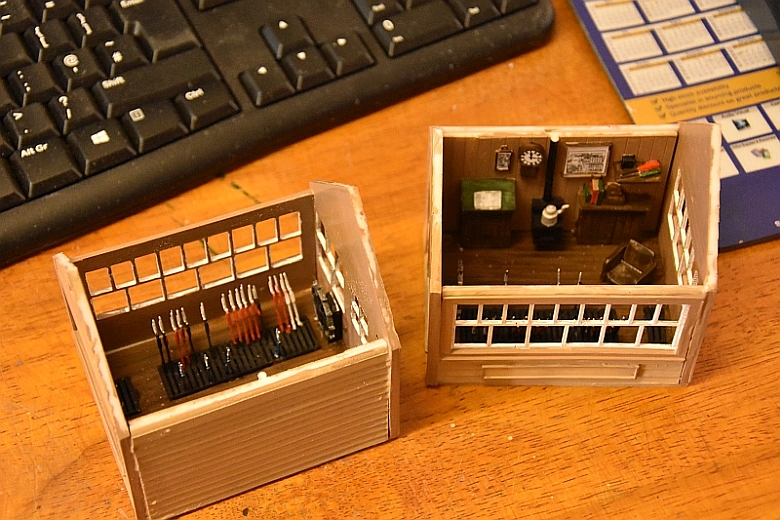 I have added a Minerva RTR Pannier to the loco stock. A good purchase and finely detailed. As I had a spare ESU decoder for it I opted for the DC version at around £260. Here is the result. Its a brilliant little engine and a great addition to my stock of locos.
February 2018
Next loco in the waiting line is a 13xx 0-6-0PT by CRT kits I picked up at Kettering last year. You need wheels motor and gears, transfers and number plates to complete the kit. Click here to see it progress through the workshop.
The match truck is completed. Click the link below to see its final look. Work on the crane itself isn't due to start until the Autumn.
January 2018
The breakdown crane project is progressing with the match truck being constructed out of two brass WEP kits. To see the progress of this click here.